Inspiration and escape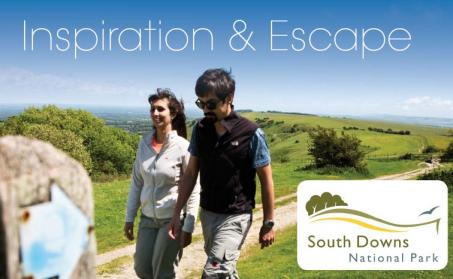 The South Downs Way is one of 15 National Trails in England and Wales and was the first bridleway National Trail in England. It is also the only National Trail to lie entirely within a National Park.
Stretching from the ancient cathedral city of Winchester in the west, first capital of England, through to the white chalky cliffs of the Seven Sisters and Beachy Head at Eastbourne in the east, almost all of its stunning 160 kilometre length is blissfully off-road.
Today, the South Downs Way offers inspiration and escape as we follow in their footsteps, whether ambling on an after-lunch stroll or rising to the challenge to walk, run or ride it over several days.
Whoever you are, there are countless ways to enjoy this trail and all that it connects - it is the central thread running through the patchwork of culture and nature that is the South Downs National Park.
Why not set out in the early morning sunshine with an autumn mist filling the valleys below? Or spend a day with the kids in its western woods, spotting butterflies and hunting out the many geocaches secreted along its path. And as night falls, lie back in the grass, and breathe deep from the star-filled sky.
On a clear day, you could spot paragliders and buzzards sharing the thermals above you. Then head down for a potter and a pint in one the "springline" villages whose flint houses were built wherever fresh water rises up through the chalk to the surface. Or pause a while at Devil's Dyke, and contemplate a view Constable considered "the grandest in the world".
There are entry points all along this National Trail. Everything from car parks suitable for horseboxes, to drop-off and pick-up stops for the Towns & Downs Wanderer, a summer bus service at the eastern end of the National Park.
Simply upload a GPS guide to your bike's sat nav, download a walking map or details of connecting bus services to your phone, and before you know it you can be on your way!
Find out more about the South Downs Way at www.southdowns.gov.uk