Recipe of the month: March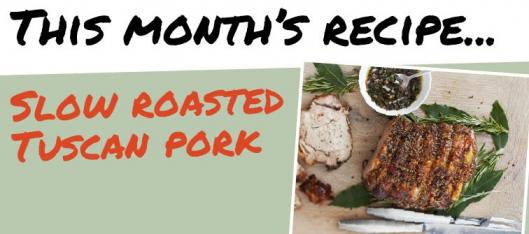 Slow roasted Tuscan pork
(Serves 6-8)
Ingredients
- 2.5kg pork leg joint
- 3tbsp olive oil
- 4 cloves garlic cut into slivers
- 2tbsp fennel seeds
- 2tsp dried chilli flakes
- 2tbsp dried oregano
- 2tbsp fresh rosemary finely chopped
Mint caper sauce:
- 2tbsp tiny capers
- 2 shallots
- 20g fresh mint stems removed
- 1 clove garlic
- 3tbsp balsamic vinegar
- 4tbsp extra virgin olive oil
Method:
1) Preheat the oven 140°C. Take a sharp knife and cut small slits into the meat. Insert the slivers of garlic all over the meat.
2) Mix together the herbs and chilli. Rub the pork roast with 1tbsp of olive oil and salt and pepper.
3) In a very large frying pan, sear the meat on all sides until browned. Rub the remaining oil over the pork and then roll in the herbs. Arrange on a roasting rack over a roasting tin. Place in the hot oven and cook for about 4-5 hours.
4) The meat will be tender and fall apart when the string is removed. Slice the pork and place on a platter with rosemary sprigs and other fresh herbs. Serve with sauce and some crispy or mashed potatoes.

To make the sauce:
1) Finely chop the capers, shallots, garlic, and mint and place in a small bowl. Add the vinegar, oil, salt and pepper and a large pinch of sugar.
2) Mix well and pour into a serving jug.
Recipe and image: Hampshire Farmers' Markets, 01420 588671, www.hampshirefarmersmarkets.co.uk