A bright future for Havant Men's Shed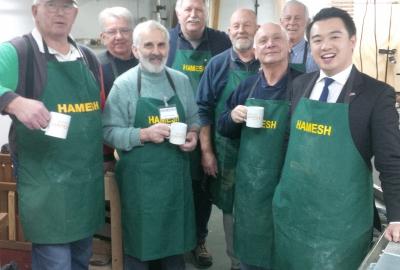 A bright future is in store for Havant Men's Shed, with strong support from across the community and plans in place for the move to a new home this summer.
Health Minister Alistair Burt has weighed in with his support for the movement, and agreed to help open the organisation's new building at Langstone Technology Park, along with Havant MP Alan Mak.
The Havant Men's Shed – known locally as HAMESH – is one of a growing number of community workspaces appearing in the UK; the Men's Shed movement having started in Australia where there are more than 1000 branches.
The Men's Shed movement provides communal facilities for men to congregate in friendly company to encourage active participation, stave off boredom and loneliness, and through association thrive in later-life activity.
The Havant Shed, now in its third year of operations, is involved with a range of community projects, catering for around 30 members with a full management committee, bank account and website.
David Guest, sponsor of the Havant Men's Shed, said: "It is great to see the Men's Shed movement beginning to really take off in Havant and thanks to local MP Alan Mak for his continuing support. I am looking forward to Alan's visit, along with Health Minister Alistair Burt, to help our local branches grow even further."