Portsmouth Choral Union sing at the New Theatre Royal - Tonight Tonight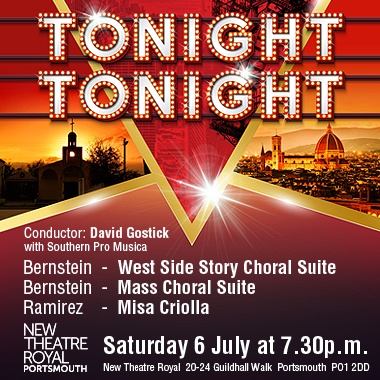 West Side Story Choral Suite - Bernstein
Mass – Choral Suite - Bernstein
Misa Criolla - Ramirez
Conductor: David Gostick
With Southern Pro Musica
Saturday 6 July 2019 at 7.30 p.m.
New Theatre Royal, 20-24 Guildhall Walk, Portsmouth PO1 2DD
Tickets: www.newtheatreroyal.com Tele: 02392649000
Or in person at the Box Office.
For more information: www.pcuchoir.org
Registered Charity no. 266974 Find us on Facebook and Twitter
The thread running through this concert is rhythm - lively, infectious, jazzy, joyful. It links church and theatre music in a celebration of song.
Ramirez's jubilant setting of the Mass is infused with the rhythms of South America. It was made famous by Jose Carreras, but we are just as lucky to have the fantastic young tenor Anthony Flaum joining us for this performance. Bernstein's West Side Story contains his best loved melodies, presented here in a medley showcasing the choir's lyrical sound. Bernstein's Mass is not a traditional setting, but a dramatic work exploring faith and doubt. It is infused with an eclectic mix of musical styles, performed here in its intended theatrical setting.
Driving the music along will be a team of percussionists from the acclaimed Southern Pro Musica.