A driving force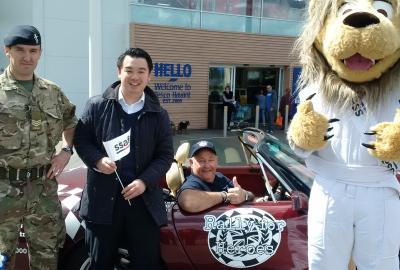 Havant residents dug deep and donated generously towards an inspired initiative aimed at supporting forces personnel around the world.
Fundraisers for the Rally for Heroes campaign, joined by Havant MP Alan Mak, collected cash at Havant's Tesco Express superstore, raising money for Armed Forces charities such as SSAFA, Help for Heroes and the Royal British Legion.
The main event, which sets off from Portsmouth Harbour on 5th August 2016, will involve more than 100 participants in 60 vehicles driving five miles for every fallen serviceperson since the start of the conflict in Afghanistan.
The rally, which was officially launched in May 2011, hopes to build on past success by raising over £100,000 for the soldiers' charities in 2016.
The route will take drivers through France, Belgium, Germany, Switzerland, Italy, Monaco, Spain back to France and on to the UK – covering over 2,500 miles in commemoration of the 456 British service personnel who have died in the Afghan conflict since 2003.
Commander Steve Shaw, who works at Navy Command Headquarters in Portsmouth, is one of the three directors within Rally for Heroes. He said: "The people of Havant have shown their generosity on the last two occasions that Rally for Heroes has visited Tesco to raise funds for SSAFA, something for which we are immensely grateful. We are quite stunned by their willingness to support us."