Dedication pays off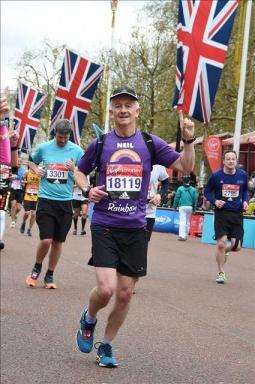 Eighteen months of training, fractured bones, torn ligaments and pulled muscles proved worthwhile as Petersfield's Neil Hawkins raised vital funds for a local cause by tackling the London Marathon.
Neil completed the London Marathon in four hours, 28 minutes, and recently announced that he has raised a total of £1,250 for The Rainbow Centre, based in Fareham, which supports children with Cerebral Palsy.
Neil, who works for Mediation Now as a coach and mentor for people after separation and divorce, explained: "The Rainbow Centre does incredible work. I have seen this personally through the progress of my son's best friend, a seven-year-old who has benefited greatly from attending the centre."
This is the fifth marathon Neil has completed, having run the London Marathon previously in 1991 and 2005, the New Forest Marathon in 1999 and the Portsmouth Coastal Marathon in 2015.
Neil added: "This last attempt at the London Marathon almost didn't happen as I had a year of interrupted training due to illness and injury, so considering everything – including a cramp at 18 miles that slowed me down quite a bit - I am pleased to have completed to this year's race."
To find out more about The Rainbow Centre, go to www.rainbowcentre.org