A day to remember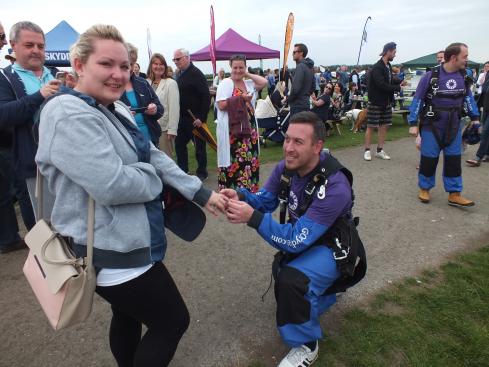 From high in the sky to down on one knee in a matter of seconds…
Havant's Dan Barker took a leap of faith to show his support for Cosham's Queen Alexandra (QA) Hospital, jumping 15,000 ft out of a plane for Portsmouth Hospitals Charity.
Moments later, once his feet were firmly on solid ground, Dan went down one knee to propose to his girlfriend of two years, Megan Trinder.
Along with six of his family and friends, Dan took the leap to raise funds for cancer research projects at QA. The group also organised a family fun day, which successfully took place in April, bringing their total donations to £2,661.88 – and they plan to continue raising funds for cancer research projects each year.
Dan said: "I have thought about proposing to Megan for quite a while and decided that proposing at the charity skydive would be the perfect opportunity. The proposal was a bigger challenge than the skydive - Megan was very surprised and I am extremely happy that she said yes!"
Megan, 23 also from Havant, said: "Just before Dan's skydive, he told me to meet him at the end and I was asking everyone where to go. Once I reached the meeting spot, all of a sudden there was a huge crowd of people around me. Dan approached me and said that was the hardest thing he's ever had to do, however this is even harder and dropped to one knee! We've talk about marriage all the time but the proposal was a total surprise. It was definitely a day to remember."