Spring clean your finances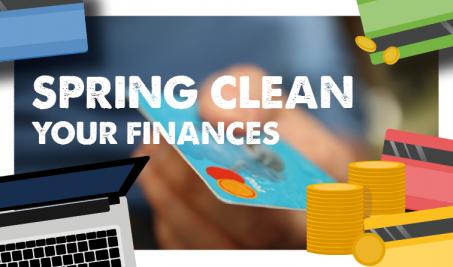 What better time than April to spring clean your finance and reassess your spending habits. So at TDG, we have compiled a few suggestions to help you to start saving your money this month…
Stop using credit cards. Especially if you have a habit of getting into trouble with debt, keep them somewhere safe, but not in your wallet, so that you only use your credit card in emergencies. Keep it "out of sight and out of mind". Also try to reduce your debt by setting targets and recording your progress.
Remove your card details from your online shop accounts. It's easy to spend money online when you can simply click and buy. Finding your card and typing in your details will give you time to think about whether you really need to buy yet another pair of plain black trainers to add to the collection…
If you spend money out of stress – try to wind down in a different way. Try jogging instead, do some yoga, read a book or chat to friends – continuing to spend money is only going to stress you out more in the long run. Avoid shops unless you actually need to purchase something to stop impulse and unnecessary purchases.
Cancel unused club memberships you never go to and fancy gym memberships you like the idea of but never use. Cancel the magazine prescriptions that sit in a pile but you never read.
Rethink how you food shop too by creating a day-by-day meal planner and writing shopping lists. This will save you lots of time wandering down the aisles of supermarkets looking for the cheapest prices. It is important to stick to these shopping lists to ensure you keep within your daily food budget – so shopping if you're hungry may not be the best idea!
And don't waste the food you're buying. Make your leftovers last by using them as a base for your next meal. Make the classic bubble & squeak after a Sunday roast, create casseroles or paellas with your meat leftovers and yummy pasta sauces with your vegetables and meats. Delicious!