New Odyssey Restaurant, Bar and Pizzeria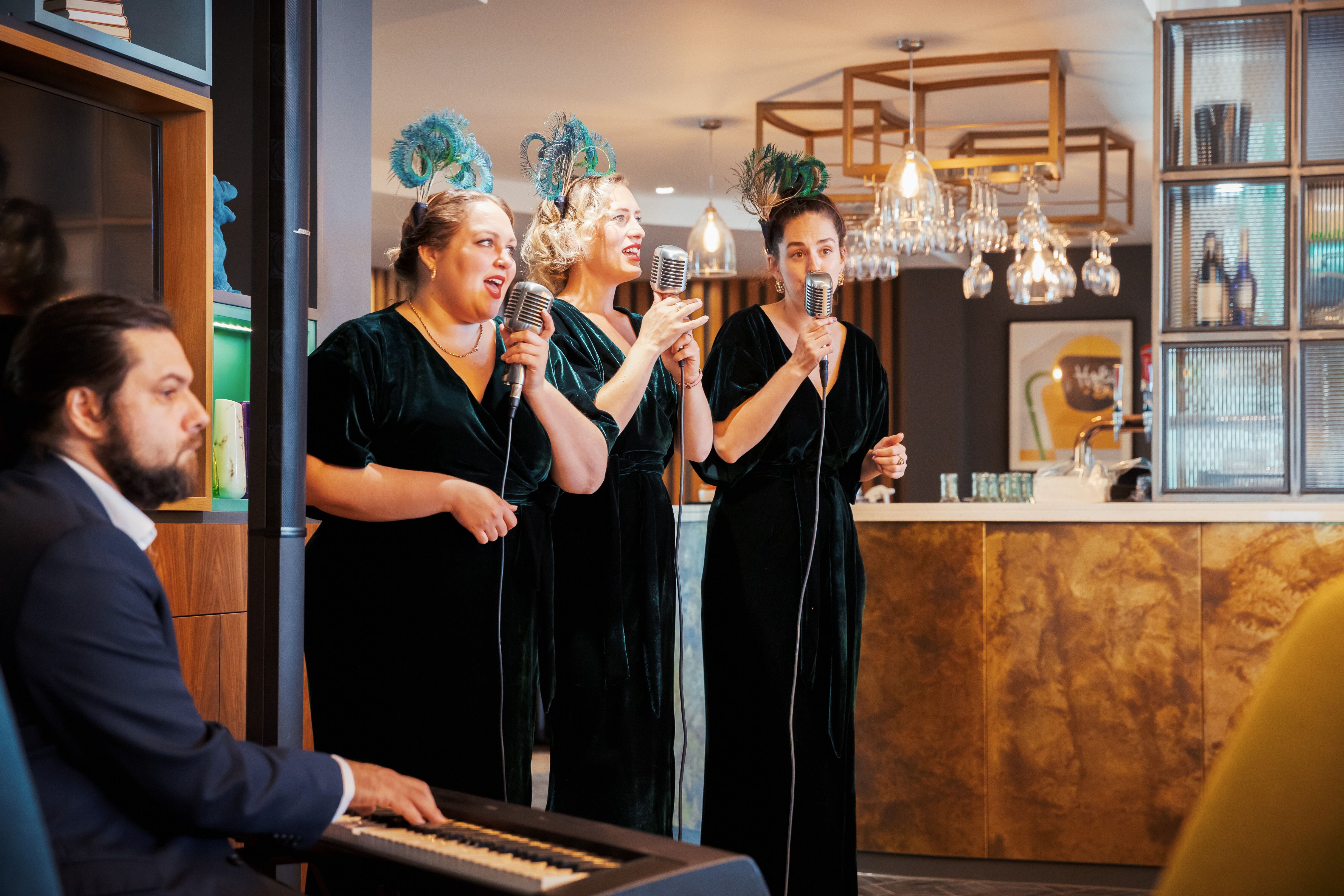 The 4 star Holiday Inn Winchester has undergone a radical transformation over the summer and celebrated the opening of all aspects of the hotel's £2.5 million refurbishment with a recent VIP launch of the hotel's new Odyssey Restaurant, Bar and Pizzeria and the new luxury Ana Spa.

The new facilities were officially opened by The Mayor of Winchester, Councillor Eleanor Bell, with over a hundred guests entertained by the music performed by The Spitfire Sisters.

The AA Rosette Award winning new Odyssey Restaurant, Bar and Pizzeria was the first phase of the new redevelopment to be completed, which offers a new all day dining concept with the addition of contemporary styled bar, an outside terrace, some individual dining booths, an open lobby and new reception area.

The hotel's General Manager Marc Solarz commented:
"In times when so many businesses are pulling back on expenditure and development, I must thank our owners the Castlebridge Group for having the confidence and foresight to invest so heavily into this property. This investment sets us up for the future and allows the Holiday Inn Winchester to be a leading destination and employer in the Winchester area."

"It is an exciting time for our hotel and we have had such overwhelmingly positive feedback from new and regular guests to the imaginative look and feel to every area. Moving the restaurant and bar up to the upper ground floor was an inspired plan and it has really worked so well, and the combination of the new open lobby has created a really positive and warm feeling as visitors come in through the front entrance. I'd like to give special thanks to Paul Brook and Mike Davies from Darling Associates who designed this concept to be such a great addition to the hotel."
"This has also given us the opportunity to develop our new luxury ANA Spa on the lower ground floor, where the restaurant had been located. We are so very impressed with how the designer, Alistair Johnson from Spa Creators, has created such a beautiful spacious Spa for our hotel guests and to provide a great facility for local people too."

The ANA Spa has luxurious treatment rooms offering peaceful spaces for visitors to relax and be pampered. There is a new Gym, Studio, Sauna, Steam Room and Hydrotherapy Vitality Pool. The new Spa will also be offering memberships to local residents for Spa Days and Gym memberships.

The redevelopment of the upper ground floor reception area has created a new contemporary styled space that now provides a large lounge including a quiet workplace area and an entertainment media/fun relaxing area, as well as a new hotel reception and a To Go Café proudly serving Starbucks Coffee and light snacks.

Marc Solarz continued: "Our Odyssey restaurant menu features the very best of local produce and our team have created many imaginative new dishes. They have also been busy coming up with new fresh and healthy ideas for the ANA Spa menu, which will also include indulgent luxury Afternoon Teas for those who want a special treat."

The AA Rosette Award winning team at the hotel have been working on the new menu and developing unique pre-starter nibbles, a wide choice of starters and good selection of main courses to appeal to all tastes and preferences, including vegetarian and vegan options.
Sarah Waddington, the hotel's Sales and Marketing Manager commented: "As a hotel we provide food throughout the day from breakfast through to the late hours, so the hotel is the perfect place for local people to drop in for a drink after work, for Sunday lunch with friends, to use as a remote office for the ever increasing number of homeworkers or as a location for a special occasion dinner. And with free parking at the hotel, we are all about making life easy and uncomplicated."

Sarah Waddington continued: "We are also thrilled about having the beautiful new ANA Spa. We have had so many wonderful comments from guests and local visitors who were eager to try out the new facilities and treatments. The Spa is a great choice for a special treat or as your local salon for nails and regular beauty maintenance such as waxing and tinting."
www.hiwinchester.co.uk