Petersfield's Firewalk Festival!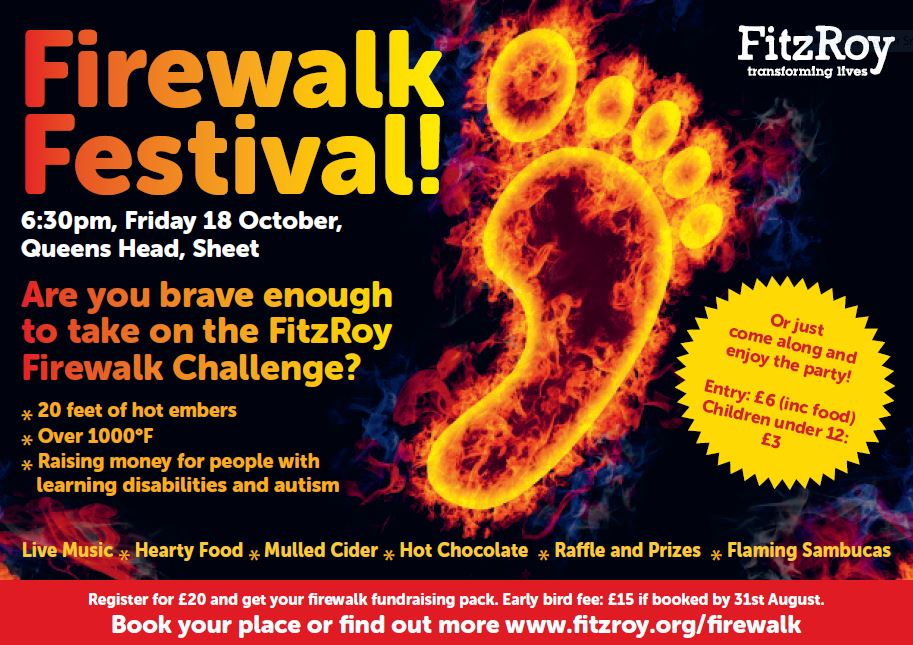 Petersfield's Firewalk Festival!
On Friday 18th October, a group of self-nominated people will walk over 20ft of hot coals to fundraise for Fitzroy, a charity which supports people with learning disabilities and autism.

After the bravery of the fundraisers, the event will celebrate with live music, games, a raffle and hearty food and drink - including flaming sambucas!
Blaze, the Firewalking experts who have organised events like this for over 32 years, said "Everybody finds their first firewalk thoroughly exhilarating. The effects of the motivational training session can have long-lasting benefits in their personal life, with increased awareness of how to achieve their goals."
FitzRoy transform lives by supporting people with learning disabilities to do the simple things that make a real difference to their everyday life. This event will help Fitzroy reach their vision to have a society where people are treated as equals, regardless of their disability. Fitzroy rely on the generous support of fundraisers. Money raised will go towards life-changing things such as an iPad, which could give someone a voice, a sensory room, which would open the world for them and the Fitzroy Love4Life dating and friendship, a programme, which proves that everyone can find love.
The Firewalk Festival takes place at The Queens Head, Sheet and will begin at 6.30pm, with the firewalk itself taking place at 8.30pm. Please come along to support or sign up to take part in the fun and raise money for the most vulnerable people in our local community at the same time! Entry price (includes food) is £6 per person and £3 per child (under 12 years). For more information and to book your place, call Jim Apted, Local Fitzroy Community Fundraiser, on 01730 711104 or visit: www.fitzroy.org/firewalk