Gunwharf Quays kicks off Light Show Spectacular alongside local community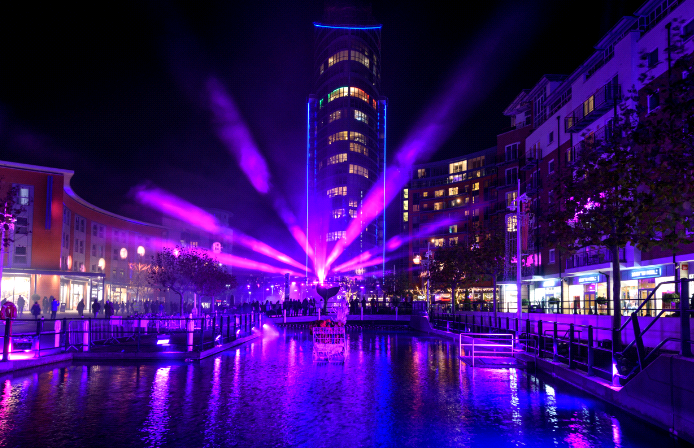 Last night, the Portsmouth community joined Gunwharf Quays for the official launch of its spectacular free light show, which is running at the outlet shopping centre until 23rd November.
Visitors included local businesses, partners and local residents who came to watch the display, which took them on a 'Journey into Winter' ahead of the festive season. Over 60 lights were projected into the night sky, visible from up to five miles from the city and taking spectators on an adventure through the beauty of the Autumn and Winter seasons. There were even a few festive surprises on the way.
Yvonne Clay, Senior Marketing Manager at Gunwharf Quays, said: "We were thrilled to be joined last night by members from the local community for the launch of our Light Show Spectacular. The centre was buzzing with excitement as the lights filled the sky for the first time.
"We're so excited to be offering something bigger, better and brighter for our visitors this year and we hope they take the chance to sit back, relax and enjoy the show after a long day of Christmas shopping."
The light show will run daily until 23rd November, at 5pm, 6pm, 7pm and 8pm Sunday to Thursday and at 6pm, 7pm, 8pm and 9pm on Friday and Saturday. Each show will last approximately eight minutes.
For more information, visit https://gunwharf-quays.com/.