Butsetfest 2014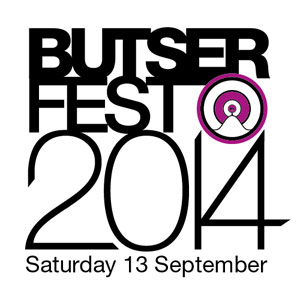 Rock-out to co-headliners The Blackout and Kids In Glass Houses on Saturday 13 September at the UK's biggest alcohol-free rock festival that is… BUTSERFEST.
Organised by East Hampshire District Council in partnership with Southampton Solent University and set in the heart of the South Downs National Park at Queen Elizabeth Country Park, Hampshire, this head-banging, mosh-pitting, all-day mini-festi packs a ton of big names into a day you'll never forget.
On the main stage: The Blackout; Kids In Glass Houses; Feed The Rhino; George Barnett; Blitz Kids; Tek-One; I Divide; The Hype Theory; Aurora; Create To Inspire; and Bourne.
On the alternative stage: Sonic Boom Six; TRC; Gnarwolves; Astroid Boys; Baby Godzilla; Black Futures; The Catharsis; Our Hollow, Our Home; EMP!RE; When We Were Wolves; Saint[The]Sinner; Gone By Tomorrow; At The Lighthouse.
On the Quay West Studios Introducing Stage will be local bands: Dead!; Three Times Over; Cavaliers; Fall of Babel; Leftines; Last Chance City; LST; The Butterfly Culture; Ollie Goodwin; Waking Angel; Tonight We Fall; Kodiak Jack; Eagle & Weeks; In The Atlantic and The Urban Vocal Group.
The festivities run from 11am to 10pm and are a great chance to party with friends and listen to the bands you love in the great outdoors.
As ever, there will be loads of activities included in the ticket price, including human wrecking ball, laser tag, rodeo bull, a climbing wall and many more.
Staff and students from Southampton Solent University's Technology School Media Technology courses will be using their knowledge, skills and state-of-the-art equipment to make sure that the sound, lighting and technical operations of the Alternative Stage at Butserfest 2014 are the best yet.
Standard tickets for Butserfest are available online from www.butserfest.co.uk/tickets for £20 (plus booking fee) or from local outlets at Petersfield Town Council, Horndean Parish Council, Queen Elizabeth Country Park visitor centre, Bohunt School, The Petersfield School, The Spring Arts and Heritage Centre, Havant and The Phoenix Theatre & Arts Centre, Bordon.
Group tickets are also available online from www.butserfest.co.uk/tickets with 5 tickets for £90 (including fees). Keep up to date with Butserfest on facebook.com/Butserfest or follow us on Twitter @Butserfest.