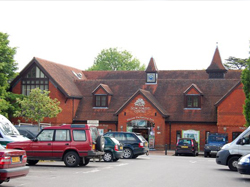 To advertise here FOR FREE, send a brief description of your event, and telephone number, either via email to whatson@thedirectorygroup.co.uk, or via post to What's On, The Directory Group, Unit 1 Viceroy Court, Bedford Road, Petersfield, Hampshire, GU32 3LJ. We cannot guarantee all adverts will be published. Adverts are published on a first come first served basis.
The closing date for next month is 16/02/2018
Photos: Flower Workshop (left), The New Forest Centre. Photo by: Trevor Harris (centre), Waterlooville Pancake Race (right)
February
Well established Ladies Barbershop Chorus, The Havant Pitchpipers are seeking new members over 18 years of age with any singing ability. We rehearse every Tuesday evening from 7.30pm til 10pm at: St Philip's Church Hall, Hawthorn Crescent, Cosham, Portsmouth, PO6 2TL. For more details contact Marilyn Penketh on 02392 460227 or marilyn.penketh@gmail.com. Or just turn up to rehearsal and you will be welcomed by a lovely group of ladies.
Flower Workshop, Tuesday 6th February, 6:30pm to 8pm, at Horndean Technology College. £15 per person with materials included. Contact Seaside Florist on 02392 460630 to book your space.
Alton Organ Society Hosts Katherine Dienes Williams, 6th February at St Lawrence Church, Church Street, Alton, Hampshire, GU34 2BW, at 7:30pm. Katherine Dienes Williams is a New Zealand born organist. She is organist at Guildford Cathedral. She will brighten up February and together with our warm welcome, you are certain of an enjoyable evening! The screens will give you an all-round experience. Admission £10. www.altonorgansociety.co.uk
Spirit-of-the-South Open Evening, Tuesday 6th February, Havant Methodist Church, from 7:30pm until 10pm. Join our local chorus – it's not rocket science! This uplifting group will boost your life just when you need it most. Ladies from all different backgrounds can socialise while being a part of a four-part harmony chorus. Call 02392 451220 or 02392 641997.
Painting Society at Rowlands Castle Parish Hall, PO9 6AD. On 6th February from 2pm to 4pm. We have demonstrations, workshops, life groups and exhibitions. Visitors are more than welcome to attend. Go to www.rowlandscastlepaintingsociety.org.uk for additional information.
Quiz Night at The Elizabeth Foundation, Thursday 8th February, at Southwick Hill Road, Cosham, Portsmouth, PO6 3LL. £30 for a team of four includes food. Bring your own drink. Twelve teams joined us at our previous event so come along for a fun evening while raising money to support our charity. Medal for winners. www.elizabeth-foundation.org. Call: 02392 322162.
Pre-Spring Steam Gala, 9th to 11th February. Join us for a nostalgic event commemorating 50 years' since the end of BR steam. Tickets cost £25 for adults and £13 for children. Family and multi-day passes also available. Book at www.watercressline.co.uk – 01962 733810.
A special Cheriton Sessions evening of live folk music with James Patrick Gavin and Friends, showcasing his debut album 'Chewing the Fat'. 9th February, doors open at 7:30pm. London-born James is a fiddle player and guitarist who creates folk music that dances the line between tradition and irreverence, groove and grace - with original material that weaves together three generations of his own Irish family. Tickets are available at £12 from Cheriton Stores, The Flower Pots Inn and online (fees apply) at www.ticketsource.co.uk/cheritonsessions.
Hampshire Farmers' Market, 10th February, at Alton High Street, 10am to 2pm. A Free Event! Enjoy the great taste of Hampshire, savour the delights of truly local food reared, grown, baked, caught and brewed in Hampshire. Get in touch at 01420 588671.
Hands on Half Term at Beaulieu. 10th February to 18th February, 10am to 5pm. Inspired by the National Motor Museum's dazzling new display, The Luxury of Motoring, Beaulieu, National Motor Museum are inviting all visitors to enjoy a taste of the finer things in life this half-term. 01590 612345
Portsmouth Festival Choir's Choral Workshop on Renaissance Choral Music will be on Saturday 10th February, from 1pm to 4pm at St Thomas Church, Bidbury Lane, Bedhampton, PO9 3JG. The workshop will be led by Thomas Neal, the choir's Musical Director. Thomas will concentrate on singing techniques on repertoire, including phrasing, dynamics, tempo, expression and pronunciation. £10 (£8 for students) which includes hire of scores and tea or coffee. Call: 01243 513413. Email: wagstaff397@btinternet.com
Build '@' Church. At the Church of the Resurrection, Drayton, PO6 2AP, 10th February. A free and fun activity for families. It's a space for families to hear stories, respond to them using Lego and Duplo bricks, pray and share tea and coffee, soft drinks and cake. Email Julie Minter on Julie@farlingtonparish.co.uk or call her on 02392 754130.
Portsmouth Guildhall Wedding Fayre, 11th February, at PO1 2AB. The centre of Portsmouth is the location for one of the largest PMN Wedding Fayres with more than 60 of the best local wedding suppliers, along with a massive Wedding Transport Display within the Guildhall Square – all ready to help you with your wedding day requirements. £2 per person. 01329 227437 | 07816 911310
Family Discovery Day, The New Forest Centre, Lyndhurst, SO43 7NY. Learn about the New Forest and have fun with our family friendly half term activities. No need to book, just drop in between 10am and 3pm - different activities each day. (Museum entry is free, donation per craft activity.) 023 8028 3444 for further information.
Waterlooville Businesses Pancake Race, Tuesday 13th February, at 11am. Come along and enjoy the fun as the businesses in the Waterlooville area compete against each other in their annual pancake race. More information can be found by searching 'Waterlooville Events Team' on Facebook and / or emailing waterlooville.events@gmail.com
Messy Church at the Church of the Resurrection, Drayton, PO6 2AP. Saturday 17th February from 2pm to 4pm. Messy Church is designed for families with young children. Families are welcome with tea or coffee and puzzles available to entertain the children. After this there are a variety of craft activities linked to a theme of the day, based on a biblical story. A short celebration follows in which children share their results of the activities. More info, call 023 9242 1849.
Square Roots Promotions invites you to New Venue Launch Show, at 7pm for a 7:30pm start. An Evening Of Prime Americana in Petersfield with The Jigantics, Goat Roper Rodeo Band and The Savannahs. Saturday 17th February 2018, at The Studio at The Petersfield School, Cranford Road, Petersfield, Hampshire, GU32 3LU. Box Office: 02392 382888. Tickets £12 (£15 on the door).
Table Top Sale on Saturday 17th February, 11am to 2pm, at St Philip's Church Hall, Hawthorn Crescent, Cosham. Tables to hire for £5, book in advance. Refreshments with bacon rolls etc., variety of tables and homemade cakes. Entrance 50p. Contact 02392 379278 for further details or to book a table.
The Big Coffee Morning, Saturday 17th February, from 10am to 12pm, at Emsworth Baptist Church, North Street, Emsworth. Come along and enjoy free coffee, tea and biscuits. There will also be a gift and cake stall.
A changing climate and landscape: visions of a future Britain. Monday 19th February at Warblington School, Southleigh Road, Havant, from 7:30pm until 9:15pm. A Science Discovery Group talk by Dr Mark Hardiman of Portsmouth University. Entrance charge £3 per person per meeting.
Denmead Rowans Support Group present Sunday Lunch. Roast lunch 'out of this world', desserts, glass of wine, coffee. 25th February 2018 at 1pm. All Saints Church Hall, Denmead. Accompanied by our wonderful supporters STONEY RIDGE BAND. A community support event held in aid of Rowans Hospice. Tickets £14 from 07947611699 or email patricia.bailey333@gmail.com
Mayor of Havant Coffee Morning, 28th February, at Sacred Heart Church on London Road, Waterlooville. Join Councillor Elaine Shimbart to raise money for the Mayor's charities: Home Start Havant and Fitzroy Supported Living. Stalls and raffle. Please call Gerry Shimbart on 02392 713756 for more information.
Pop-up Spring cinema. At St George's Waterlooville, film commences at 7:30pm with doors opening half-an-hour prior. Enjoy a free cup of coffee or tea, courtesy of Sainsbury's and a small treat. Lost in Paris will be shown on 22nd February; Breath on 22nd March and Goodbye Christopher Robin on 26th April. See www.weteam.org.uk. Follow 'Waterlooville Events Team' on Facebook, and Twitter: @WaterloovilleET. Tickets £6.
Ropley Dramatic Society presents their spring production of Prescription for Murder by Norman Robbins. On 16th and 17th March – at The Parish Hall, Ropley. Tickets to be purchased in advance at £8 for the thriller / mystery / whodunnit full-length play with comedic touches and a very surprising ending! Box Office 01420 568265, or janbennett42@outlook.com.
Chocolate Workshop with Chocolate Craft. Saturday 24th February from 10am to 12:30pm. Unit 1, Upton Park Farm, Old Alresford, Hampshire, SO24 9EB. Come and learn how to make chocolates – just like the professionals. Book at www.chocolatecraft.co.uk
Alresford District Friends of Girl Guiding Family "Beetle Drive" at Alresford Community Centre. Please support Friends of Girlguiding raising funds for Alresford District Rainbows, Brownies, Guides and Senior Section. Tickets from Jo Curtis 01962 733629 or email: rayjo.curtis@btmternet.com. Cost £8 adult, £4 child (age 4-15) - includes Ploughman's Supper. Bring your own drinks and glasses. We look forward to seeing you for a fun evening!