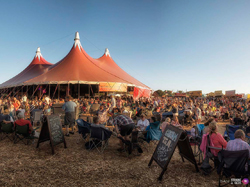 To advertise here FOR FREE, send a brief description of your event, and telephone number, either via email to whatson@thedirectorygroup.co.uk, or via post to What's On, The Directory Group, Unit 1 Viceroy Court, Bedford Road, Petersfield, Hampshire, GU32 3LJ. We cannot guarantee all adverts will be published. Adverts are published on a first come first served basis.
The closing date for next month is 18/08/2017
August
Summer Fun. Open every day 10.00am -12.00pm and 1.00pm - 3.00pm, with late sessions on Wednesday and Saturdays between 3.30pm - 5.30pm, at Country Market, Bordon, GU35 0QP. Come along for some pay and play summer fun this August! With rides, a bouncy castle, slides, a barrel train, trampolines, paddle boats, crazy golf, a giant inflatable football pitch and loads of great games, this is the perfect place to have some fun this summer. For info and prices, visit: www.facebook.com/tjaysfun4all/
Georgian Petersfield. Throughout August, at the Petersfield Museum, St Peters Road, Hampshire, Petersfield, GU32 3HU. 2017 will mark the 200th anniversary of Jane Austen's death. This exhibition will look at what Petersfield was like in her lifetime. A significant part of Petersfield's history, the Georgian era brought change and development to the little market town. www.petersfieldmuseum.co.uk
Wickham Festival. 3rd August – 6th August at Blind Lane, Wickham, Fareham, Hampshire, PO17 5HD. The outskirts of historic village of Wickham provide a picturesque setting for one of the safest and most relaxed festivals of the summer. There will be craft stalls, real ale bars, an international food fayre, childrens entertainers, a chill-out zone, dance displays stage, the EA Hub computer games area and many other attractions plus excellent amenities! www.wickhamfestival.co.uk
Clanfield Twinning Association presents a Car Boot Sale at South Lane. Meadow, South Lane, Clanfield, PO8 0RA on Sunday 6th August from 9 am to 12 noon - Gates open at 8 am - Pitches £5 - Public Admission Free - Tel 07900 481281.
Gravel Hill 5. 5th August from 4.00pm, at Queen Elizabeth Country Park, Gravel Hill, Horndean, PO8 0QE. Test yourself on this beautiful trail run over five miles in the Gravel Hill and War Down areas of QECP, where the hard work of the mile uphill is rewarded with over three miles of downhill, not forgetting the drinks and snacks at the half-way check point. At the finish enjoy the live music, massage, sports shop stand and post-race refreshments. www.hants.gov.uk
Anglo-Saxon Festival. 5th August, from 10am – 4pm, at The Curtis Museum, High Street, Alton, Hampshire, GU34 1BA. Re-enactors Weorod will again be setting up camp in part of Crown Close. Through their displays and performances you can find out all about Anglo-Saxon food, craft work, clothes and weapons, as well as their traditions and way of life. www.hampshireculturaltrust.org.uk
Day Out With Thomas. 5th August – 13th August at The Mid Hants Railway, The Watercress Line, Station Road, Alresford, Hampshire, SO24 9JG Meet Thomas the Tank Engine and his friends at the Watercress Line. Experience a ride on a real steam engine, shake hands with The Fat Controller and take part in Thomas themed activities in the Imagination Station, along with so much more! www.watercressline.co.uk
Hambledon Wine Festival. 6th August from 11.00am – 4.00pm, at East Street, Hambledon, Waterlooville, Hampshire, P07 4RY. The perfect opportunity to enjoy many wines from all over the world in one place – at England's oldest commercial vineyard! Take part in a wine tour, feast on local Hampshire produce or just kick back and relax with a glass of something delicious. www.hambledonvineyard.co.uk
Boomtown Fair. 10th August – 13th August at The Matterley Estate, Ovington, Alresford, Hampshire, SO24 0HY. Boomtown rose up from the underground in 2009 to become one of the UK's wildest and most inspiring independent festivals. Join thousands of citizens and embark on an immersive audio-visual joyride, dancing through the labyrinthine streets and plazas on a non-stop weekend journey of discovery. www.boomtownfair.co.uk
Charities Fete. 12th August, from 11.00am – 3.00pm, at the Allen Gallery, 10-12 Church St, Alton GU34 2BW. Once again, the Allen Gallery are handing over their garden to local charities in order for them to promote their causes, sell their goods and entertain with games and competitions. Call 01420 82802 for more information.
Waterlooville U3A Open Day 16th Aug, 1.30-4.30pm, at Springwood Community Centre, 110 Springwood Ave, Waterlooville. The U3A is for the retired or semi-retired. Come along to see what we have to offer.
The Emperor's New Clothes. 18th August from 6.00pm-9.00pm, at Uppark House and Garden, South Harting, Petersfield, West Sussex, GU31 5QR. Visit Uppark House this summer for some outdoor family theatre fun! Illyria, an Equity Outdoor Touring Guidelines compliant have been touring for over 24 years with their unique brand of high-energy, colourful theatre. Bring a picnic and enjoy the performance as the sun sets over the atmospheric surroundings of Uppark. www.nationaltrust.org.uk
Winchester Cheese and Chilli Festival. 19th August – 20th August at North Walls Recreation Ground, Devils Island, Gordon Road, Winchester, SO23 7DD. The Cheese and Chilli Festival will again bring an amazing array of tastes, colours and experiences to Winchester. Whilst the event has an obvious focus on cheese and chilli, there will be something for everyone at the event making it a perfect family day out with FREE activities on offer for both children and adults. www.cheeseandchillifestival.com
19th-20th August Glass Open Studio 10am - 4pm A unique opportunity to visit local glass artist Elisa in her home studio. Glass Art Jewellery & Homeware using the techniques of fusing and lampworking. 3 King Arthurs Court, Drayton, Portsmouth. PO6 1NU. T: 07966774270 E: elisa@shakeyourglass.com W: http://www.shakeyourglass.co.uk/
Purbrook Horticultural Society Annual Summer Show. Incorporating the National Begonia Society South Coast Area Show. Sunday 20th August. Crookhorn College, Stakes Hill Road Waterlooville PO7 5UD. Doors open to public at 2pm with awarding of Trophies at 4pm. Admission £1. Accompanied Children most welcome Free. Parking Free. Refreshments available
Classes include Fruit; Flowers; Floral Art; Children's; Novice; Novelty; Home Baking and Preserves; Handicrafts; Photography; Vegetables and Hanging Baskets/Planted containers.
Stalls selling Plants; Tombola etc
Further details and schedules available www.purbrookhorticulturalsociety.org.uk
Hayling Island Camera Club will be holding their Annual Exhibition at Northney Farm Barn, St. Peter's Road, North Hayling, PO11 OPX, on both Saturday and Sunday, 19th/20th August, from 10.00 a.m. to 4.00 p.m. Additional car parking space will be clearly signposted and refreshments will be available from the adjoining tea-rooms. Visitors will invited to vote for their favourite print and/or their favourite panel of images. In addition, they will have the opportunity of putting their names down for a free, half-day workshop on 2nd September, the aim of which is to give participants the opportunity to experience a taster of what Hayling Island Camera Club can offer its members.
WATERLOOVILLE SUMMER FETE. Sunday 20th August 11 am to 3 pm, Jubilee Park (PO7 6AW) Waterlooville. Entrance is FREE. Fun for all the family. As well as the usual Stalls (over 60) , Funfair, Bouncy Castle, Bungee Trampoline, Food, Bar and full arena featuring local talent – this year sees the return of the Dog show (entry £2.50 a class – all proceeds to Hounds for Heroes). There will also be a number of FREE children's activities including workshops with Top Banana Circus and Big Noise Community Samba, Laser quest (courtesy of Peter Ashley Activity Centres), Miniature Mayhem mobile farm and Giant bubbles from Mummies Club Waterlooville and Havant. Organised by the Waterlooville Events team. Check out our FB page 'Waterlooville events' for details of this and other events in Waterlooville.
Psychic medium Michelle Sullivan. Wednesday 23rd August 2017. 7pm - 9pm £8. The Phoenix club, crookhorn lane, waterlooville. PO7 5QB
South Downs Show. 19th August – 20th August at Queen Elizabeth Country Park, Gravel Hill, Horndean, PO8 0QE. A fun and exciting event for all the family (including those with paws!). Amazing arena acts such as Stallions of Substance, Sweeps sheep-dog display and Reedlands Retrievers. Lots of stalls and interesting displays such as Ferret Racing, Archery, Donkey rides and much more! www.hants.gov.uk
Makers Market. 20th August, 10.30am – 4.00pm, at Southsea Castle, Clarence Esplanade, Southsea, Hampshire, PO5 3PA. The Makers Market at Southsea Castle is a fantastic artisan market set within the Castle itself. The market will feature some of Hampshire's best makers and artists. It's the ideal place to find that special gift for someone, or treat yourself! As well as the makers market, the on-site Waterfront Gifts shop will be open, plus there will be great food and drink available from The Courtyard. www.southseacastle.co.uk
Clanfield Village Horticultural Show. 20th August from 2.00pm, at Petersgate School, Green Ln, Clanfield, Waterlooville PO8 0JU. The Annual Horticultural Show is coming soon! Start organising your entries: plants, fruit, vegetables, photos, baking, flower arranging etc.… and there are children's categories! Entries can be taken the evening before the Show or on the morning of the Show. Teas and cakes will be for sale. For more information, email: clanfieldgardeningclub@btinternet.com
Waterlooville Summer fete. 20th August, 11.00am – 3.00pm, at Jubilee Park, PO7 6AW. This year's fete has everything you would expect: plenty of food (burgers, ice cream, wood fired pizza, hog roast, jacket potatoes, tea and cakes, donuts), bar, funfair, bungee trampoline, bouncy castle, carriage rides, over 60 Stalls and a packed arena showcasing local talent.
PETERSFIELD ARTS & CRAFTS SOCIETY EXHIBITION 2017 Held in THE FESTIVAL HALL, PETERSFIELD DATES: Thursday 24 August to Monday 28 August TIMES: 10 a.m. to 6 p.m. Late opening Friday 25 August until 8 p.m. Petersfield Arts & Crafts Society (PACS) was founded in 1934 when Lady Margaret Nicholson became the first president. Among the founder members was well known local artist Flora Twort, along with a group of distinguished local artists and craftspeople.
PACS mission continues to be the promotion of arts and crafts in the area of Petersfield through exhibitions, workshops, artist demonstrations and talks. 300 members from Petersfield and the surrounding area contribute to all aspects of the running the organisation. Members include professional artists as well as people who have discovered their creative side very recently.
This month's Pop up Cinema presentation is LION on Thursday 24th August. Location - St George's Hall Waterlooville. Tickets are £6 and include a free cup of team and small treat. Doors open at 7 pm, film starts at 7:30 pm. Tickets available on the door or from EE – 308 London Road and The Falcon News - 53 London Road.
Organised by the Waterlooville Events team. Check out our FB page 'Waterlooville events' for details of this and other events in Waterlooville.
Petersfield Summer Festival. 26th August – 28th August in Petersfield Town Centre. The event will feature three days of top quality live music, with the whole festival starting on the Saturday evening from 7pm, followed by two full days of fantastic varied market stall trading featuring some of the best food and products available from the local area as well as awesome family entertainment and activities. www.petersfieldfest.com/wp/
Flower, Produce & Handicraft Show. August 26th from 2.30pm All Saints Church, Catherington. Entries are now being accepted for this year's show. Please find details of all classes and entry forms at www.allsaintscatherington.co.uk . With 85 classes to choose from, there is something for everyone. The church will be open from 2.30pm to view the entries for an admission fee of 50p adults (20p children). Refreshments including home-made cakes will be served in the church hall throughout the afternoon.
Graze Festival. 27th August, from 11.00am – 11.00pm, at Humphrey Farms, Hazeley Road, Twyford, Winchester, Hampshire, SO21 1QA. Graze Festival is Hampshire's finest music and food festival! Now in its third year, Graze Festival is looking to raise money for local groups and charities that make up the fantastic community in and around Winchester. Graze Festival boasts an exciting line-up of live music, performing arts, pop-up restaurants and excellent entertainment, complete with a dedicated kids' area for families to enjoy the day. www.grazefestival.com
A Midsummer Night's Dream. 27th August, doors open at 6.15pm, show starts at 7.30pm, at Gilbert White's House, The Wakes, High Street, Selborne, Hampshire, GU34 3JH. Star crossed lovers, playful fairies and hilarious travelling players make for an unforgettable night of theatre. Bring a picnic to enjoy Shakespeare's best loved romantic comedy, complete with beautiful Elizabethan costumes, a wonderful music score and enchanting woodland puppet creatures. A fantastic evening of theatre under the stars for family, friends and children of all ages. www.gilbertwhiteshouse.org.uk
Emsworth Show. 28th August, from 10.30am – 5.00pm, Recreation Ground, Horndean Road, Emsworth, Hampshire, PO10 7PT. A traditional Village Flower, Vegetable & Craft Show in Emsworth! Hundreds of exhibits in a marquee, arena events, craft stalls, produce stalls, music, fun activities for children and much more. Competitions for vegetables and plants; arts and crafts; photography and baking! www.emsworthshow.org.uk
Fete and Fun Day! Monday 28th August 10.00am – 4.00pm, Havant Town Centre. Loads of great stalls and food outlets coming together in Havant Precinct on Bank Holiday Monday to raise funds for two worthwhile charities: Cancer Research and Cancer is a Drag. Please spread the word and get everyone involved!!! Great day out for all the family, activities include crafts and fun rides, and there will be plenty of sweets for the kids! Call 02392 790178 for more information.