Calling All Sewing Enthusiasts!
Are you a sewing fanatic? Or maybe you'd like to learn? Whether you're an absolute beginner looking to acquire a new hobby or a confident sewer, you can release your creativity with Sew Creative, an exciting new sewing and textile studio opening on Lavant Street in Petersfield on 18th October.
An Open Day will take place on Saturday 18th October from 9am where celebrity guests Tamara Melvin and David Dawson, from this year's Great British Sewing Bee, will be joining business owner Jo Watts for the grand opening! There will be a question and answer session, so pop along with anything you'd like to ask, and don't forget your camera!
Jo will also be holding free mini workshops and ½ hour taster sessions throughout the open day – which you will need to pre-book via the new website: www.sewcreative.org.uk. These sessions are suitable for adults and children aged 5+ and include Textile Painting, Needle Felting and more - places are going fast so book your space quickly!
The open day will also give you the chance to find out more about Sew Creative's two gorgeous studios: The Sewing Studio and The Creative Studio. These are where workshops take place and where the magic happens! It's also worth noting that there will also be 'Crafternoon' Tea session twice monthly in The Creative Studio where sewers will get 2 hours to make something 'Afternoon Tea' inspired, like a vintage tea cup pin cushion. So if that sounds like something you'd love to get involved with then book your place!
Upcoming Workshops: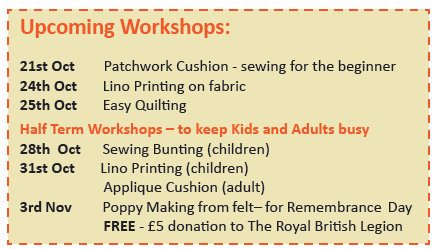 If you can't make the open day on the 18th, pop along to Petersfield Lavant Street Market on 5th October where you can meet Jo, find out more about Sew Creative and browse their gorgeous range of fine fabrics.
For more details call 01730 858020 or email info@sewcreative.org.uk.
Alternatively, you can, 'like' Sew Creative on Facebook, follow them on Twitter: @Sewcreative14 or visit: www.sewcreative.org.uk.