Help Get Connor to Kenya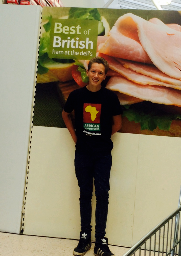 Meet Connor Bryant, one of our young, hard-working distributors! Connor took up a directory distribution round to raise money for a trip to Nakuru in Kenya next year, where he will be helping the local community by working in schools and building projects alongside his school and the volunteer travel organisation 'African Adventures'.
As well as delivering the directories to help fund the cost of the trip, Connor also has a paper round, helps an elderly couple with their gardening, bag packs and donates to 'The Rag Bag Man'. This is where he needs your help!
Connor is looking for donations of clothes, rags, curtains, sheets, towels, bedding and other material that you may be thinking of throwing away. He can arrange to collect these from you and then The Rag Bag Man will pay him per kilo – all the money raised is put towards his fundraising target.
Let's all help get Connor to Kenya so he can help local communities become more self-sufficient. If you've had a clear out and would like to donate your old items, please call him on 02392 371552 or email anita643@ hotmail.co.uk where he will be more than happy to arrange collection from you.
You can also help by going to
www.easyfundraising.org.uk/ and searching for African Adventures Kenya: 2015 - Connor Bryant (easyfundraising is a free way to donate money when you shop on line) or by visiting
www.gofundme.com/fmrqm4.