Building for the future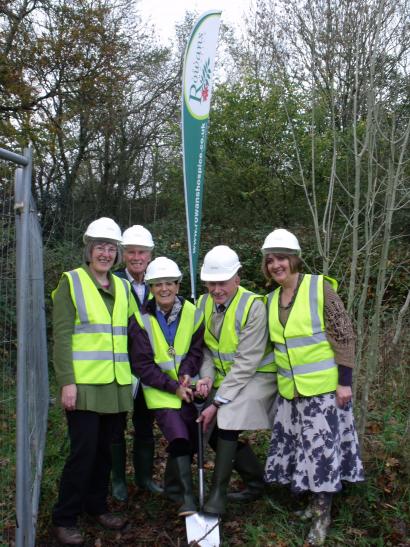 Above (left to right): Carol Gully, spiritual care chaplain; Mr Peter Clear, consort; Cllr Angela Clear, Mayor of Winchester; Ian Young, honorary chairman of trustees and Ruth White, chief executive of The Rowans Hospice.
The Rowans Hospice is building for the future of care with the creation of a new centre to support independence and wellbeing.
Marking the start of construction work to build The Living Well Centre on a site next door to The Rowans Hospice, on Purbrook Heath Road, The Mayor of Winchester Angela Clear and honorary chairman of Trustees Ian Young recently performed a ground-breaking ceremony, with a blessing by spiritual care chaplain Carol Gully.
Guests took part in a minute's silence to honour the lives of the victims of the terror attacks in Paris at 11am.
Among those in attendance were many donors towards the cost of building project, which is being met completely by charitable funds. A larger opening ceremony will take place in a years' time when the centre is completed.
The Living Well Centre will provide a place where people affected by life-limiting illness can walk in to access information, engage in compassionate conversations and receive therapies. It represents the development of community-engaged hospice care, and is not only for those who are older, but for all living with progressive and life-shortening illnesses, to include younger adults who may have previously been supported by children's services. It is hoped that the centre will form an 'oasis' for patients, their families and community groups within the wider community.
Ruth White, chief executive at The Rowans Hospice, said: "We hope our Living Well Centre will be an inspiring place in which to work, visit, socialise and find comfort. It will be a physical expression of the care we provide and reflect another significant contribution from The Rowans Hospice to the provision of palliative care services locally. The centre will also allow us to build even stronger ties with our community, as we work together to shape the future of hospice care."
The Living Well Centre should be completed by August 2016.
The Rowans Hospice provides specialist hospice care and support to patients with life-shortening illnesses resident in Portsmouth and south east Hampshire, their relatives and carers. All the care given is without charge.
To find out more, call 02392 250001 or visit rowanshospice.co.uk