A moment of reflection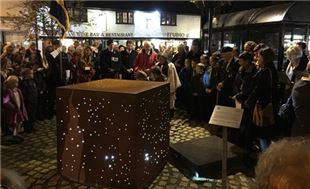 An award-winning sculpture proved the focal point for a moment of reflection in Wickham, as the community came together to remember the fallen.
The Mayor of Winchester and chair of Wickham Parish Council Angela Clear led a ceremony in her home parish of Wickham on Remembrance Day, as more than 100 parishioners gathered around the Box 459 light installation, which has been commissioned by Winchester City Council and installed in the village square. It will remain in Wickham for a year before continuing its tour of the district.
The sculpture was first unveiled on 4th August 2014 to mark the Imperial War Museum's LIGHTS OUT event and has received international recognition for the team who created it at AR Design Studio Ltd in Winchester.
Inspired by the 1921 inscription on Winchester Cathedral's War memorial, the steel light installation, which recorded a total of 459 fallen soldiers from the city, won a Surface Design Award in 2015.
Box 459's dimensions mark Armistice Day – it is a 1100mm engineered steel cube. An internal light source projects powerful shafts of light through 459 apertures, representing the city's lost generation from this era of history. A further 43 apertures have coloured filters, representing the fallen soldiers of Winchester District's 43 parishes.
Among those in attendance at the ceremony were representatives of the Royal British Legion, 1st Wickham Scouts Group, Wickham Church of England Primary School, Wickham Parish Council, Wickham Chamber of Trade and Winchester City Council and AR Design Studio, all laying wreaths at the foot of the installation.
Rev Juliet Montague from St Nicholas Church and Fr Andrew McMahon, from Park Place Pastoral Centre, both read prayers before laying their wreaths. The leader and deputy leaders of Winchester City Council, Cllrs Stephen Godfrey and Victoria Weston, and chief executive Simon Eden also attended and spoke to parishioners and representatives from the Royal Navy in a short reception hosted by Greens Wine Bar following the event.
Speaking at the event, Cllr Clear said: "We are here because our society does care - we do remember those who sacrificed their lives, we remember those serving in the armed forces on behalf of their countries, the loved ones they leave behind and also those who are forced to leave their homes and undertake dangerous journeys, becoming refugees.
Andy Ramus, managing director of AR Design Ltd, commented: "This was a moving event and the warmth of the welcome from the community in Wickham shows what a fitting site the village is for this stage of Box 459's journey. Talking to the people in the crowd who left their homes and businesses at nightfall, you do get a sense that our community really does appreciate opportunities to gather together and reflect upon the impacts of all wars, both past and present."