Getting ready for Christmas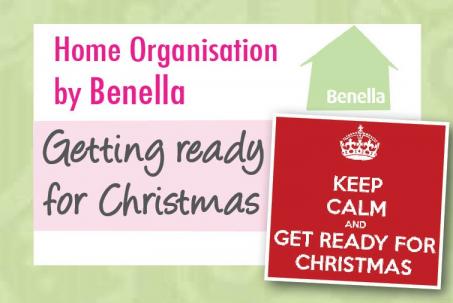 Getting ready for Christmas...
Prepare for extra food and drink by clearing out kitchen cupboards or garage space to use. BBQ tools and salad bowls can go in the attic until Spring
• Start adding one or two non perishable Christmas food/drink items to each supermarket shop to help budget the cost:- Stuffing, crackers, napkins etc
• Prepare and freeze in advance any meals/canapes you can
• Ensure you book a food delivery slot close to Christmas
• Use local markets and butchers to beat the queues at the Supermarkets on Christmas Eve
• Prepare for guests - ensure guest bedroom has fresh towels and bedding and I always put miniature toiletries in a basket next to the bed
• Don't have a spare bedroom? - ensure you have airbeds or camping mats and spare bedding for overnight guests to use or better still ask them to bring their own
• Start wrapping a few presents at a time early so it is not a panic on Christmas Eve
Happy Christmas!
07703 218905, jo@benella.co.uk, www.benella.co.uk