A dining experience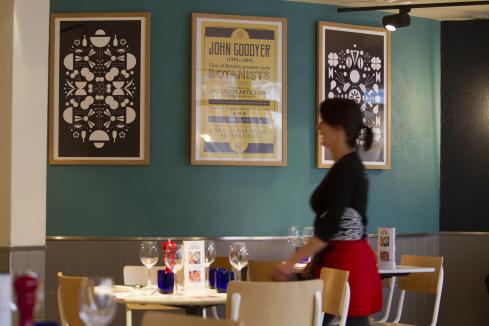 The Directory Group's Henry Ascoli paid a visit to the new-look Pizza Express, which has embraced local connections to re-establish its place at the heart of Petersfield…
Turning away from the 'one size fits all' approach taken by many national chains, Pizza Express has individually designed each of its restaurants to reflect local links - be it a place, person or historical event connected with the community.
In Petersfield, the Chapel Street restaurant has been given a fresh new look inspired by South Downs botanist John Goodyer, and features artwork reflecting the picturesque surroundings of the South Downs, along with strong abstract imagery of iconic landscapes and patterns based on herb and plant studies by Goodyer, who lived in Petersfield.
A striking courtyard, illuminated by the glow of lanterns, greeted us before we set foot inside the restaurant, escaping the winter chill and receiving a warm welcome as we were shown to our table.
The bright and fresh décor made an instant impression - a modern look dominated by strong, clean lines and simple furniture, while retaining the restaurant's charm and character.
A first glance at the new-look menu revealed a raft of new additions featuring fresh and diverse flavours, alongside a selection of festive specials - pork and pancetta croquettes, spiced lamb romana pizza and snowball dough balls to name but a few.
With so much choice, selecting a starter and main was by far from an instant decision, but offered us the perfect opportunity to savour the fruit and herb flavours of the Merlot Rosé as we deliberated.
I eventually opted for the Christmas special of smoked salmon rilette - creamy hot kiln-smoked salmon and Sicilian lemon pâté served with warm flatbread, salad garnish and a wedge of lemon. A refreshingly simple yet satisfying dish, awakening the palette ahead of the main. For my partner, a traditional choice - dough balls with garlic butter, an old favourite guaranteed to deliver.
Turning our attention to the main, the Christmas specials caught my eye - in particular, the sprout and pancetta romana had me intrigued. However, the earthy flavours of the Pianta caught my eye: spinach, chestnut mushrooms, pine kernels, artichoke, tomato, chilli flakes and garlic oil finished with rocket and extra virgin olive oil and fresh parsley. I opted for this on the thinner, crispier romana base, a lighter dough which brought the beautifully balanced flavours and textures to the fore, the chilli flakes giving the pizza an added kick and bite.
My partner opted for the Fiorentina on a classic base - spinach, free-range egg, mozzarella, tomato, garlic oil and black olives, finished with Gran Milano cheese. Bursting with flavour, this pizza is a fine example of simple ingredients working in harmony - a true taste of the Mediterranean.
The sweet temptation of the dessert menu proved too strong to resist, and since both of us are particularly partial to chocolate, we were truly spoilt for choice. For my partner, the rich and luxurious Chocolate Glory: vanilla gelato, chocolate sauce, chunks of chocolate fudge cake and a chocolate straw.
For me, another festive special: chocolate and orange torte (pictured below). Creamy milk chocolate and orange ganache on a crunchy biscuit base, served with mascarpone. Without doubt, one of the best desserts I have tasted in a long time - every mouthful a sheer delight. Chocoholic's heaven!
Throughout the evening, the service was flawless, our waitress attentive and informative, making us feel at ease, with a relaxed atmosphere throughout the restaurant.
A highly recognisable name on the High Street, PizzaExpress has seized the spotlight on a local level once again, delivering not only fantastic food, but a dining experience.
PizzaExpress Petersfield (25-27 Chapel Street, Petersfield GU32 3DY), 01730 710357, www.pizzaexpress.com