The sky's the limit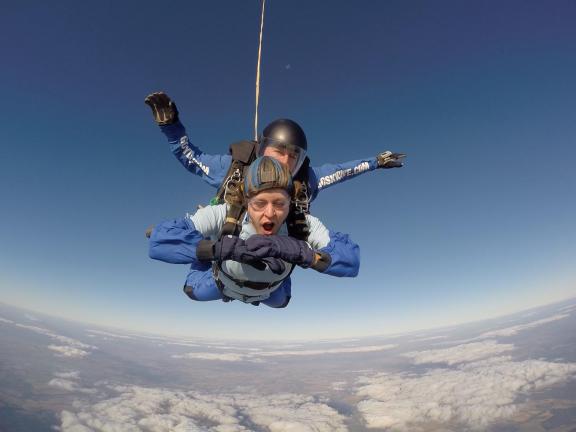 A pair of brave fundraisers took a leap of faith in an inspired tribute to their late sisters, supporting causes close to their heart.
Perry Carter, 16, from Hayling Island, and 20-year-old Adam Westbrook from Horndean joined five more fundraisers for a tandem skydive in Reading.
Perry took part in the challenge in memory of his sister Emma Carter, who died of an undiagnosed heart condition when she was just 13 in 2004, while Adam tackled the skydive in tribute to his sister Hannah Westbrook, who died aged 10 in 2004 from Hodgkin's lymphoma.
The challenge raised more than £1,000 for the British Heart Foundation and £2,000 for Hannah's Holiday Home, a charity set up by Hannah's mum Pam Marshall to give families with terminally ill children a chance to go on a relaxing break.
Pam said: "Once the plane reached 15,000 feet, Adam jumped out the plane and shouted 'This one's for you Hannah!. I think I was more nervous than Adam was until his feet were firmly on the ground again! I was very, very proud of him, and everyone else who took part - one lady had never been in a plane before."
Hannah's Holiday Home was inspired by family holidays, and the fun and enjoyment these used to bring to her life.
Pam explained: "Hannah was just eight when she was diagnosed with Hodgkin Lymphoma and Adam was seven. They were very close not only in age but as brother and sister.
"Later that year, my husband Brian was fatally electrocuted at work. A very black time for us all.
"Hannah underwent chemo, radiotherapy and a stem cell transplant but sadly she gained her angel wings in the September of 2014.
"Throughout her illness she constantly raised money for the Piam Brown ward in Southampton, where she was based for lots of her treatment. Over the 18 months of her illness, she raised £10,000 with Adam and family and friends' support."
"When we had the idea of buying a holiday home in her memory and starting up the charity, it seemed the right thing to do."
To find out more about Hannah's Holiday Home and to donate, call 023 9257 0810 or visit www.hannahsappeal.org