A giant of a panto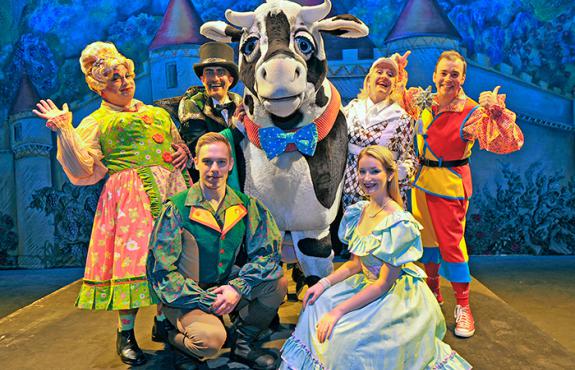 Theatre review by Henry Ascoli
Jack & The Beanstalk, Guildford's Yvonne Arnaud Theatre
While there is a wealth of technology and entertainment at our fingertips today, nothing can quite replace the light-hearted frolics of the old-fashioned pantomime - family entertainment at its traditional best.
Notching up its half century this year, Guildford's Yvonne Arnaud Theatre is certainly in the mood to celebrate, bringing some added sparkle and energy to this already vibrant production of Jack & The Beanstalk.
From the first moment to the last, this boisterous, breathless show captivated a packed audience, entertaining young and old in equal measure.
The plot needs little introduction, but there are plenty of Yvonne Arnaud extras added to the mix to keep everyone on the edge of their seat – just remember to 'look on the bright side'!
Dillie Keane, creator and star of Fascinating Aida, brings her cabaret skills and irrepressible spirit to the stage in the role of Fairy Fairway – cue the inevitable 'hole in one' gags, and a sweet surprise during her practise run on the driving range.
Yvonne Arnaud's veteran villain Kit Hesketh-Harvey proves a perfect choice for the role of Dastardly Dick – suitably sinister and sharp-witted, the dark character who everyone loves to hate.
And of course, no Guildford panto would be complete without the delightful dame Peter Gordon, who serves up some side-splitting comedy moments, all the while bedecked in an array of dazzling frocks as Dame Dolly Trott, Daisy the cow in tow all the while.
Always a crowd-pleaser and a kids' favourite, Jamie Brook does not disappoint as Silly Billy - and you certainly can't miss him in that outfit! Cue plenty of custard pies, a huge helping of slapstick and plenty of painful jokes – the loveable fool at his very best.
Steffan Lloyd-Evans soon settles into the role of courageous hero Jack, bounding around the stage with great gusto, while Louise Cannon is well-cast as the charming and elegant Princess Jill.
And what better choice for the voice of Giant Blunderbore than Brian Blessed? His booming tones echo around the auditorium as the intimidating giant emerges to take centre stage.
Swift set changes, superbly-choreographed dance routines and live musical accompaniment add the finishing touches to this giant of a panto.
A firm family favourite and a light-hearted evening of entertainment not to be missed.
Jack & The Beanstalk plays on the Yvonne Arnaud main stage until 3rd January 2016. To book tickets and find out more, call 01483 440000 or visit www.yvonne-arnaud.co.uk