A new dawn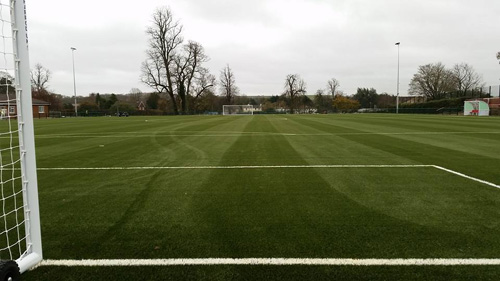 It is a new dawn for the beautiful game in Alton this Saturday (12th December), as the community comes together to celebrate the opening of a new football facility at the Enclosure, Anstey Park.
The official launch will take place at 11.45am with Deputy Mayor of Alton Matthew Bayliss and Jonathan Fair from Molson Coors jointly cutting the ribbon, overseen by special guest, former Southampton and Scotland manager George Burley, who will be on hand to give the junior players some coaching advice.
The day kicks off with youth games starting at 10am, before the official opening at 11.45am. At midday, Alton United Amazons girls under 14s take on Widbrook United.
At 3pm, the first league fixture on the new ground takes place between Alton Town FC and AFC Stoneham.
The new facility has been funded by Molson Coors as part of the project to relocate Alton Town Football Club from the Bass Sports Ground site prior to redevelopment and includes a new all-weather pitch, new covered stand and refurbished changing rooms.
The Enclosure has also benefitted from supplementary funding contributions from both Alton Town and Alton United Football Clubs, Hampshire Playing Fields Association and Alton Town Council which helped to fund the new fencing around the perimeter of the site.
Work on the site commenced back in August this year and has taken 16 weeks to complete. As the new home for both clubs, who are shortly to merge to create Alton Football Club, the new 3G pitch - the only one of its kind locally - will enable uninterrupted training and matches to be played throughout the winter season without being affected by ground conditions.
Jim McKell from Alton Town FC said: "Alton Town and Alton United are merging to form a new club of some 30 teams, from minis through the ages to our Wessex League senior side. This amazing facility will assist us in coming together to provide a vibrant, inclusive and challenging club within the community - one that is developmental for all comers."
Jonathan Fair from Molson Coors said: "It is a great pleasure to open the new football pitch at the Enclosure, Anstey Park and we are delighted that we've been able to play a part in ensuring the long-term sustainable future of football in the community with the new facilities.
"We'd like to pay a special thanks the local community, Alton Town Council and of course Alton Town FC for their support and cooperation during the planning and construction of the pitch. Good luck to all the teams playing in the first games this weekend!"
Residents are invited to come along during the day on Saturday to see the new facility. Turnstile paid entry will apply after 2pm.