10 top tips for 2016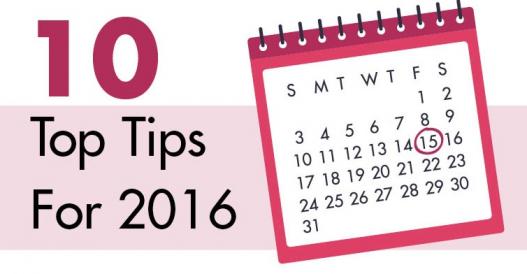 Want to stick to your New Year's Resolutions beyond the third week of January? Whether you're looking to grow your business, get fit, save cash or strike a better work-life balance in 2016, first check out these 10 top tips…
1) Constant commitment
No matter what goals you have set for yourself in life, you have to be committed. It's through commitment that you'll continue to make the improvements needed to better yourself. Commitment is what drives us all to become more successful.
2) Breaking it down
Break your goal into a series of steps, focusing on creating sub-goals that are concrete, measurable and time-based.
3) Staying on track
Make your plans and progress concrete by keeping a handwritten journal, completing a computer spreadsheet or covering a notice board with graphs or pictures.
4) Treat yourself
Give yourself a small reward whenever you achieve a sub-goal, thus maintaining motivation and a sense of progress.
5) Look after the pennies
Avoid the post-Christmas panic by cutting back by sensible budgeting. One of the ways to do this is to start living with a philosophy that says "what can I afford to do?" rather than "how can I do what I want for less?"
6) Keep your focus
Keep giving yourself little daily reminders of why you want change, until it becomes second nature.
7) Better together
Tell your friends and family about your goals. You're more likely to get support and want to avoid failure if you have people supporting you.
8)Keep it clean
Spend some time at the start of the New Year clearing and cleaning out your home and your workspace. When you clean out your environment, it will give your unconscious mind the message that you are making a fresh start.
9) Train your brain
A lot has been written about the brain's capacity for making changes and how we can create new neural pathways in our brains to change behaviours and habits. So focus your thinking on the new thoughts and habits, not the old stuff.
10) Live for the moment
Above all, enjoy – accept that not every day will turn out as expected, keep a positive attitude and try to make the most of every moment.
Here's to a happy, healthy and successful 2016.