New lease of life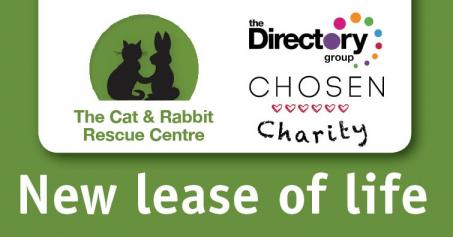 At The Directory Group, we believe that we have a key role to play in supporting charitable causes at the heart of community life.
In 2016, we will be supporting three local 'chosen charities' throughout the year, by hosting fundraising events, improving awareness and getting actively involved in helping each cause.
Established in 1986, The Cat and Rabbit Rescue Centre in Sidlesham is a registered charity which takes in unwanted, abandoned and stray animals, giving them treatment and support to lead a better life of wellbeing and health through a range of provisions such as homing units, indoor and outdoor pens and runs, an intensive care unit, veterinary facilities and a recovery room.
Offering its services to an area covering 600 square miles, the charity supports more than 1,000 cats, rabbits and guinea pigs every year.
The Cat and Rabbit Rescue Centre also runs a scheme to help people who cannot afford the full cost of neutering their cat or rabbit, and is heavily involved with feral colonies of cats which live in built-up areas, and on farms.
All cats and rabbits transferred to the centre are neutered before being rehomed, or if too young, are returned to the centre for neutering after adoption.
The charity also runs an education programmes in schools and other local groups looking into responsible pet care, and works in partnership with local community groups to take on work experience children and university day release students. People on Community Service have also been involved in helping with some of the maintenance of the buildings in the past.
The charity has six trustees, and there is an active community fundraising programme to support the centre, such as street collections, charity shops, friends' scheme, sponsorship, appeals, general donations, events and legacies.
Fundraising officer Emma Nicoll said: "It makes a huge difference to a smaller charity, like ourselves, to have the expertise and professional support of an experienced local company to help us secure future homes for the animals in our care. Thank you to The Directory Group for making us one of their chosen charities for 2016, we are delighted."
Contact The Cat & Rabbit Rescue Centre on 01243 641409 or email info@crrc.co.uk