Overcoming the elements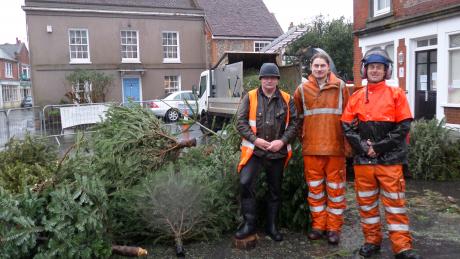 Above: Greening Westbourne chair Colin Carré (left), with Wade Fazackarley (centre) and Michael Reed (right) of Michael Reed and Co tree specialists, at Westbourne's annual Christmas tree recycling event
Westbourne residents overcame the elements to shred up to 100 Christmas trees during their annual recycling event in the village square.

The event, run by local environmental group the Greening Westbourne Campaign, has become a fixture in the calendar of the West Sussex village, near Emsworth.

The tree shredding was performed for free by village tree specialists Michael Reed & Co, and chippings from the trees will be used to produce compost.

Greening Westbourne chair Colin Carré said: "We had an amazing turnout despite the weather. It's great to see people dragging into the square and stopping for some mulled wine and mince pies. It's a fun community event but it fits with our goal of helping people to do small things locally to combat climate change. Recycling is good and doing it locally means fewer vehicle journeys."

Greening Westbourne also organises events such as a family fun bike ride, and is planting a community orchard.

Anyone interested in the campaign, and joining the community orchard project, can contact the campaign on greeningwestbourne@hotmail.co.uk or search Greening Westbourne online. The group is looking for funding for the orchard.