Care and companionship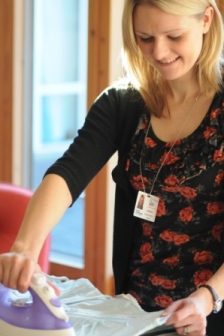 The Rowans Hospice is seeking volunteers from across the community to provide support for people with life-limiting illnesses.
Hospice Companions are needed to help patients and carers at home, offering practical and emotional support. Just a small commitment of a couple of hours a week, a fortnight or a month could make a huge difference to a patient.
There are opportunities to join the expanding team due to the opening of the new Living Well Centre later this year.
The Living Well Centre will provide a place where people affected by life-limiting illness can access information, engage in compassionate conversations and receive therapies that support independence and well-being.
The centre is not only for those who are older, but for anyone living with progressive and life-shortening illnesses, to include younger adults who may have previously been supported by children's services. It is hoped that the centre will form an 'oasis' for patients, their families and community groups within the wider community.
Pauline Wallace, hospice companions liaison officer at The Rowans Hospice, said: "Whether it's offering a listening ear over a cup of tea or practical tasks such as dog walking, shopping or ironing, just an hour or two can help prevent social isolation and help the patient adjust to living with their illness. Hours can be chosen to suit your availability, full training will be given and travelling expenses will be paid."
A volunteer recruitment morning is taking place on Saturday 13th February and anyone interested in this role should apply by 21st January to hr@rowanshospice.co.uk
The Rowans Hospice is one of The Directory Group's Chosen Charities for 2016, as part of our commitment to supporting local causes across the community.