Flipping good fun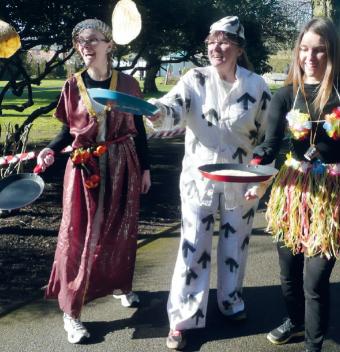 Expect flipping good fun for young and old alike at Alton's traditional pancake race on Tuesday 16th February.
Starting at 11am in the Public Gardens, there's something for everyone – from traditional fancy dress pancake races to delicious free hot pancakes provided by members of the churches in the Greater Alton Project.
There are pancake races for children and adults, plus team relay races where friends, families, community groups and businesses are encouraged to enter together.
Fancy dress adds to the frivolous nature of this non-competitive event, where prizes are not necessarily awarded to the fastest flipper but to the person or team who embraces the event to the best of their ability and is a true good sport on the day.
Faye Bobillier, owner of Alton's 'Toy Shed' and new confectionary shop 'Sweet Chocolate' in Westbrook Walk, has donated all the prizes for the event.
She will be joined by The Town Mayor Pam Jones and the Rev David Hinks in judging the event and awarding the prizes to the category winners and best dressed competitors on the day.
Cllr Derek Gardner, community and events chairman at Alton Town Council, said: "As Shrove Tuesday falls during the school term, this year we have decided to host this event on the following Tuesday during the half term holiday.
"We are hoping for a good turnout for the town's traditional pancake race and are very grateful to St Lawrence Church and Mrs Bobillier for their support in helping make this event possible."
Entry forms are available from the Town Hall and from the Alton Herald Office in the Market Square, or online at www.alton.gov.uk.
Completed forms with the entry fee of £1 per person should be returned to Alton Town Council in advance, or entrants can register in the Public Gardens on the day. Race participants are asked to bring along their own frying pan if possible.