All smiles during Royal visit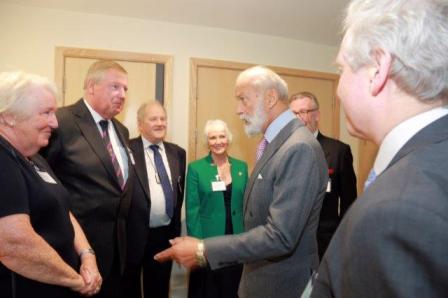 A Royal visit heralded the official opening of the new Smile Support & Care respite care centre in Waterlooville.
The local charity, which provides support to children and young adults with disabilities, had the honour of hosting HRH Prince Michael of Kent GCVO, who unveiled a plaque at the opening ceremony, attended by major supporters of the charity and members of the community.
Smile completed their appeal to furnish and equip the new £4 million state-of-the-art respite care centre in Waterlooville at the end of 2015.
Disabled children and families can enjoy a short break at the centre in the care of professionals in a safe environment surrounded by specialist equipment.
The centre features eight en-suite bedrooms, plus two family apartments, a restaurant-style dining room, state-of-the-art sensory room, physiotherapy and treatment room. There is also a specially-planted sensory and a safe play area with specialist equipment. While the centre will provide the perfect break for individuals, it will also give them the opportunity to meet with others who share the same experiences.
Smile chairman Steven Clarke said: "The centre has been a dream of ours for so long, and it's very exciting to see our dream finally becoming a reality."
The charity is still continuing its fundraising work to raise the funds needed to maintain the furnishing and equipment.
Anyone can support the appeal by planning a fundraising event or collection with friends, colleagues or family, or nominate Smile as 'charity of the year' at school or work. There are also naming opportunities to sponsor a garden bench, bedroom or other room in the centre.
Smile is also planning a golf day at Waterlooville Golf Club in May and a skydiving challenge.
For further details of these events and the appeal, call 02380 613084 or go to www.smilesupport.org.uk