Real heroes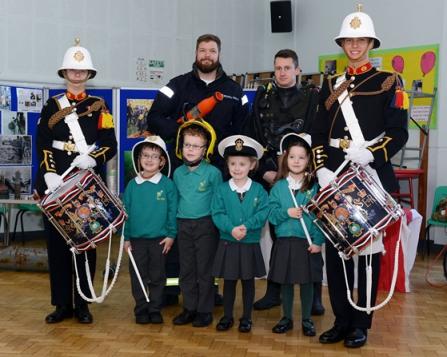 Royal Marines drummers kicked off a Cosham school's 'real heroes' week in style with a surprise performance in the playground.
The five-strong Corps of Drums from the city's Royal Marines Band amazed pupils and staff at Court Lane Infant School with a dazzling 20-minute display to launch the 'Real Heroes are All Around Us' event.
The drummers were later joined by four Navy divers and two firefighting instructors who gave talks and demonstrations about their professions.
It formed part of the school's week-long activities aimed at getting the message across to pupils that real heroes are all around them, living and working in their communities.
Pupil Seth Lewis, seven, said: "It was really cool to see the band in the playground when I got to school – it was a really big surprise. I think the Royal Navy are heroes because they help keep our country safe, they are very brave and take lots of risks."
Headteacher Jude Ramshaw explained: "I wanted to invite the Royal Navy into school as it's part of the rich heritage of the local community and it's important for children to see for themselves how the armed forces within our community encompass the heroic qualities that we talk about in school."