A new lease of life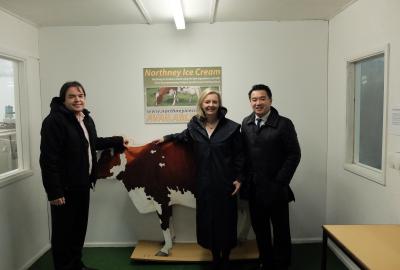 A thriving independent business has bucked the trend in the dairy industry and found a new lease of life.
Northney Ice Cream was launched in summer 2009 by Tim Pike, as Northney Farm on North Hayling produces top-quality milk from a herd of pedigree Ayrshire cows, and needed to find a new, profitable way to sell the milk.
Tim soon turned the concept into a reality, supplying retailers, pubs, caterers and kiosks around south east Hampshire, and Northney recently received a major boost of support from Cabinet Minister Liz Truss.
Visiting the dairy business earlier this year, the Secretary of State for the Environment, Food and Rural Affairs was joined by Havant MP Alan Mak, sampling the famous ice cream and enjoying a tour of the farm and its popular tea rooms, where she took part in a discussion with local councillors and business and community representatives.
Truss said: "I want to encourage everyone to buy local British brands like Northney Ice Cream. They really are the best of British."
Mr Mak commented: "Local food brands like Northney Ice Cream reflect our region's business excellence. I urge local residents to buy local and to buy British. We can all be proud of our local farmers and food producers."
To find out more about Northney Ice Cream, or arrange a visit to the farm, call 07786 545395 or visit www.northneyicecream.com