A long way down!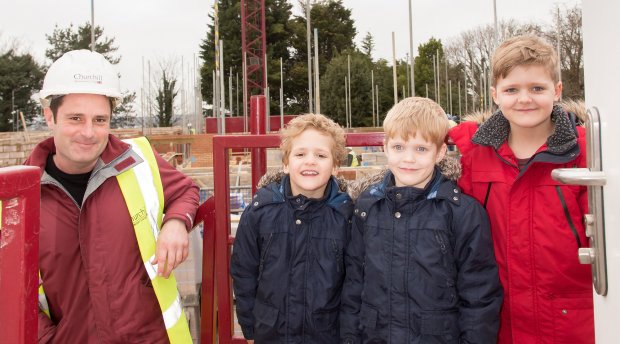 Three little boys saw their wish come true, as a kind-hearted crane driver came down from his office to pay them a visit.
Eight-year-old George Osborne and his twin brothers Oscar and Oliver, who are six, met with Luke Bennett and interviewed him about his job, before Luke made the climb back up to his cab and spoke to them over his walkie talkie.
Shane Osborne, the boys' father, said: "We live in Cowplain and my wife, Louise, drives the boys past the Churchill site on London Road everyday on their journey to Berewood Primary School. They always wave to the crane driver – who they affectionately named Colin – and 'Colin' always waved back.
"They were always pleased to see him, but Oscar in particular had a lot of questions about him – like how did he get up there? We decided to ask Churchill if our boys could meet 'Colin' so that Oscar could ask him the questions himself – and we were delighted when they said yes!"
Luke and the construction team have since received some thank you notes from the boys which are now proudly displayed on the site office notice board.