Help revive honey business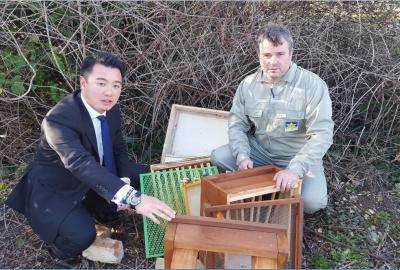 A local beekeeper and honey producer is seeking support in getting his business back on its feet after the effects of Storm Katie.
John Geden, who founded Sinah Common Honey, recently started an appeal through a crowdfunding website to help rebuild the 11 bee colonies and equipment destroyed by the storm in March.
Havant MP Alan Mak visited the damaged hives along with the rest of Mr Geden's home-based production at Sinah Common on Hayling Island, to show his support for the local business.
Mr Mak said: "I hope that local residents support John and Sinah Common Honey in their efforts to revive this terrific local small business. Let's help John's get back on his feet as the busy summer season approaches."
Sinah Common Honey is a small-scale local organic honey producer managing a total of 35 colonies of honeybees on four apiary sites.
In addition to selling honey directly to the public at local farmers markets and food festivals, Sinah Common Honey also offers swarm rescue services, courses, beekeeping experiences and pollination services as well as talks to local groups about the endangered honeybee.
Mr Geden is hoping to raise £2,000 to help resurrect his production capacity and save the local population of bees.
Anyone wishing to contribute shouldgo to: www.crowdfunder.co.uk/honeybee-apiary-re-build