Let's go outside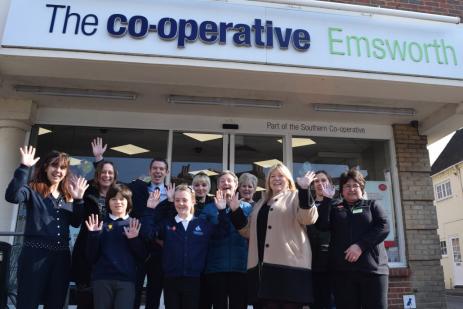 A generous donation is set to support two Emsworth primary schools with their efforts to improve outdoor learning.
Customers at The Southern Co-operative store in Emsworth raised a total of £15,000 for St James' Primary School and Emsworth Primary School through the Community Support Scheme, where The Southern Co-operative donates a percentage of each store purchase's profit when swiped with a Membership card.
The schools both plan to use the funds to develop a variety of enriched outdoor learning and socialising areas that will allow children to explore and learn through play-based activities.
Garry Farne, retail business manager for The Southern Co-operative Store in Emsworth, said: "Our colleagues and customers have been really passionate about helping to raise this money for our two local schools. I'm excited for the children and families in our community to begin to benefit from the new facilities this money will bring."
Kate Fripp, head teacher for Emsworth Primary School said: "The children are excitedly looking through catalogues and debating the merits of canopies and pergolas! Thank you to the community of Emsworth from all of us!"
Erika Biddlecombe, head teacher for St James' Primary School, said: "This money is funding our new outdoor area and without you this would not be possible. The area will enable children to learn about wildlife in their local area as well as offering a peaceful place to work."