Storage solutions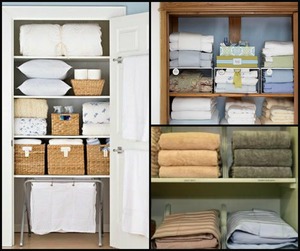 Top home organisation tips from Benella...
Organise your airing cupboard: Struggling to cram your towels in or unable to find matching bedlinen?
Here are some tips to quickly and easily organise your storage:
- Empty everything out onto a bed to avoid bending down
- Be ruthless – do you need old stained towels or bedlinen
- Organise and store similar items together – ie: bath towels in one pile
- A good way to organise bedlinen sets is to fold them and put each set within one of the pillowcases
- If you have room for duvets and spare pillows then vacuum store them for extra space. Tumble dry to kill dust mites first.
- Use hooks on inside of door to hang other items or hangers to dry items
- If you have room, airing cupboards can be a good place to store spare cleaning items or toiletries in a basket or clear crate
- Use lavender or cedar balls to keep moths at bay
Benella, 07703 218905, www.benella.co.uk