Learning from the best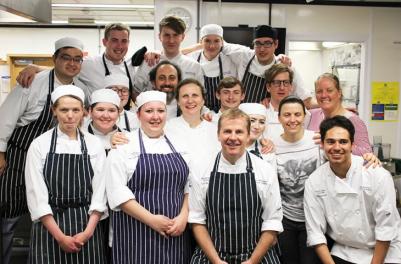 Professional cookery students at South Downs College seized the chance to learn from the best during an evening of canapés and fine food.
Regular customers at the award-winning South Downs College Restaurant were in for a treat, as 70 guests, including the Principal of South Downs College, Mike Gaston, enjoyed a four-course meal served by hospitality students of the 'Angela Hartnett Culinary Academy'.
Angela was joined in the kitchen by four more prestigious head chefs and eight lucky students were given the chance to work closely with the talented chefs; concentrating on certain sections of the restaurant so that they had the chance to learn how to cook all of the dishes on the menu.
The Angela Hartnett Culinary Academy partnered with South Downs College a year ago, and the link continues to provide aspiring executive chefs, pastry chefs, sommeliers and restaurant managers with a unique opportunity to work with some of the best chefs in the industry whilst studying for their vocational qualification.