Accessibility, inclusivity and fun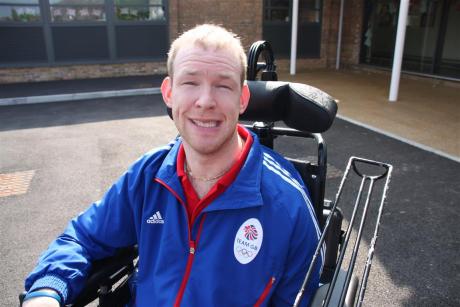 Paralympic gold medallist Dan Bentley is showing his support to Treloar's with preparations well underway for the first ever Parallel London push/run.
This brand new event is the first fully inclusive and accessible push/run for everyone, both disabled and non-disabled. You can run, walk, wheel, push or be pushed over 100m, 1km, 5km or 10km - anything goes!
Taking place at the Queen Elizabeth Olympic Park on Sunday 4th September, this is the first event of its kind where disabled and able-bodied can compete on the same track, and Treloar's is among the supporting charities.
Places are available to anyone who would like to take part while helping to raise vital funds for the disabled young people at Treloar's.
Dan will be taking part over the 5k distance and will be raising valuable sponsorship for Treloar's.
A student at Treloar's from the age of six, Dan got involved in the sport of Boccia whilst at Treloar College. His proudest moment in competition was winning the gold medal in Beijing in 2008 and a bronze medal as part of Team GB BC1-BC2 mixed team event with former Treloar's student David Smith.
Claire Kercher, community fundraiser at Treloar's, said: "Parallel London is all about accessibility, inclusivity and fun – three words that we really take to heart here at Treloar's, which is why we wanted to be a part of this exciting new event. And to have Dan on board too is a fantastic bonus for us."
If you would like to find out more, or to sign up, go to www.treloaractive.org.uk, email Claire on claire.kercher@treloar.org.uk or call 01420 547469.