Let's dance!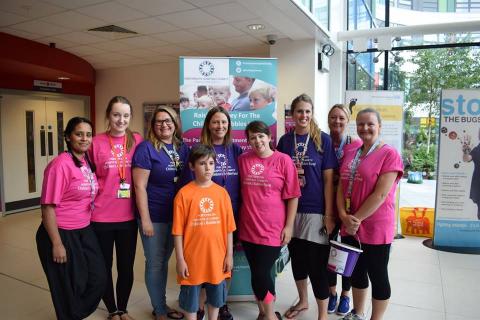 Enthusiastic staff put on their dancing shoes to raise vital funds for the Paediatrics Department at Cosham's Queen Alexandra Hospital (QA).
The team of fundraisers spent 12 hours dancing, achieving £1,007.72 to put towards an important blood gas analysing machine for the department.
The dance session featured a range of different themes, from Bollywood and Zumba to masquerade. Toddlers from Tops Nursery also took part, while an aerobics instructor led one of the themed dances.
Organiser Kate Blake, an advanced clinical practitioner, said: "The day went really well. We had people who were coming into the hospital joining in and we had children from the ward also having a dance. We are nearly at the £30,000 we need for the machine and the response during the Dance-a-Thon was great."
The blood gas analysing machine is used to diagnose and manage the treatment for children being treated within the department. It is hoped that having a machine within the Paediatrics Department will speed up the process of diagnosis and give more accurate results.
As well as the Dance-a-Thon, the nurses have also held cake sales, completed walks and received donations from businesses.
To find out more, go to www.porthosp.nhs.uk