Get ready to rock!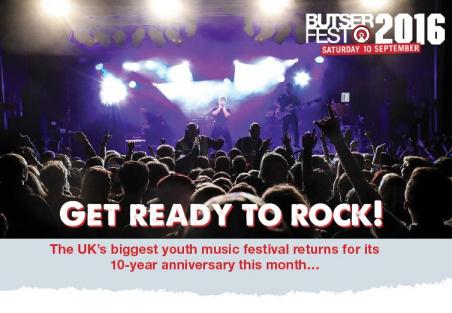 The UK's biggest youth music festival returns for its 10-year anniversary in September...
Taking place on Saturday 10th September at Queen Elizabeth Country Park, Butserfest promises to be bigger and better than ever before.
Headliners Mallory Knox will be playing alongside London rockers Young Guns, Canterbury-based rock band Moose Blood, Brighton pop punkers As It Is, Eastbourne pop punk band ROAM and South West pop rockers The Gospel Youth. Electronica rock crossover outfit The One Hundred complete the line-up of headline acts.
Completing the line-up this year are Hertfordshire pop rockers ROOM 94, Ashestoangels, the much in demand Southampton punk outfit Creeper, pop punkers WSTR, alternative rock band Casey, melodic hardcore boys Blood Youth, local electronic rockers Seething Akira, female-led rock outfit Tigress, melodic metalcore band Faultlines and the Introducing Stage winners from 2015, Flashfires. The festival also welcomes back ZOAX, this time to our main stage following their explosive Crossroads Stage appearance last year.
Meanwhile, 10 bands from Hampshire and the surrounding area have been announced as the line-up for Butserfest's Introducing Stage for 2016:Portsmouth pop punkers High Down, Brighton's City of Ashes, Guildford rockers Cavalier, pop punk outfit We Deny and Alt rockers Treasures, both hailing from Basingstoke, Southampton-based electronica rock band Reventure, The Isle of Wight's pop jazz funkers Embers, Southampton pop punk group Home For the Weekend, alt rock band A.R.K. and Petersfield youngsters Loyd.
Four further acts will be added to the Introducing Stage line up: one invited guest band and three decided from local schools and colleges' Battle of the Bands. Participating schools are South Downs College, Alton College and Chichester Music Academy.
The event features three stages of music all day and a high adrenaline 'activity zone' packed full of brilliant free activities, including the brand new addition of a zip wire for 2016. Butserfest also includes backstage acoustic sets from some of the billed bands, artist signings and a whole host of on-site traders and community stalls.
Organised by East Hampshire District Council, Butserfest is the UK's biggest alcohol and drug-free festival. Find out more and book tickets at www.butserfest.co.uk