Inspired fundraiser making a difference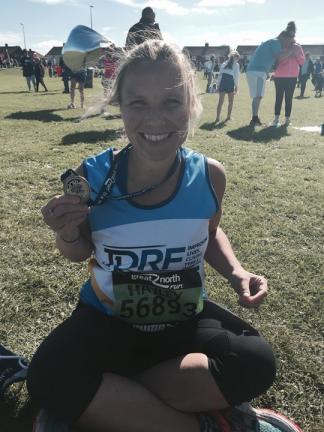 An inspired fundraiser from Petersfield has set her sights on making a difference for people living with Type 1 Diabetes.
Hayley Buckle, who lost her mum to Type 1 diabetes in March 2015, recently completed the Great North Run, raising vital funding and awareness for JDRF, which funds research, gives support and speaks out for people living with the condition around the world.
She is also planning further fundraising activities soon to pay tribute to 'Mumsie May' while improving understanding of Type 1 Diabetes.
"Not many people know that diabetes can kill and there is a lot of misunderstanding/lack of awareness around the disease," Hayley explained. " Type 1 diabetes does not have a cure and the perception is that you have diabetes because you didn't 'eat well' or you don't 'eat right' ... this is absolutely not the case.
"I really want to help raise awareness through various activities this year in my mum's memory, to help find a cure and support those that, like me and my family, have lost someone amazing at the hands of diabetes."
Hayley was already close to her £1,500 target on her JustGiving page when TDG went to press. To find out more and make a donation, go to www.justgiving.com/fundraising/InMemoryofMumsie