Community and democracy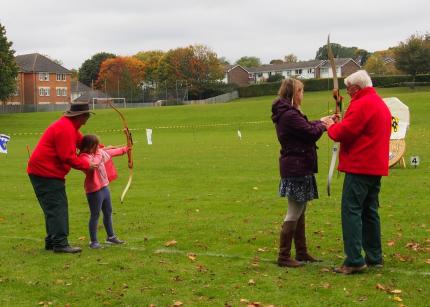 A tribute to modern democracy and Agincourt anniversary archery came together in Alton's Community Festival.
To celebrate the 800th Anniversary of King John's signing of the Magna Carter, children from Anstey Junior, St Lawrence and Wootey Junior Schools were given the opportunity to take part in theatre workshops provided by the Pheonix Theatre Group.
During the workshops the children learnt about the history of the Magna Carter and how it brought about the beginning of democracy in England. The children from the three schools then produced individual theatre productions which they performed superbly at the Community Festival to launch the event.
The children's 'Alton Charter' competition was very popular with prizes from the Toy Shed and Alton College up for grabs. Prize winners who were not available to collect their prizes on the day, will be invited to the Town Hall where the Mayor of Alton will award their prizes to them personally.
During the afternoon Alton College's playing field was turned into an 'Agincourt Battlefield' for the archery demonstration to mark the 600th anniversary.
With archers from the Alton & Four Marks Archery Club dressed in period costumes and firing hand-crafted arrows of the style that would have been used in the battle, they fired at targets with incredible accuracy. The club also offered visitors to the event the opportunity to have a go at archery themselves and fire some arrows at the targets, with expert tuition from the club instructors.
The college itself was filled with informative stalls from charities, community groups, local tourist attractions and children's activities. Town councillors Peter Hicks, Graham Titterington and Alan Chick were on hand with information for the public at the 'Meet Your Council' stall.
Visitors could also try their hand at a range of sports throughout the afternoon, while enjoying music from Alton College student Joe Murrell.