Treloars students the stars of the show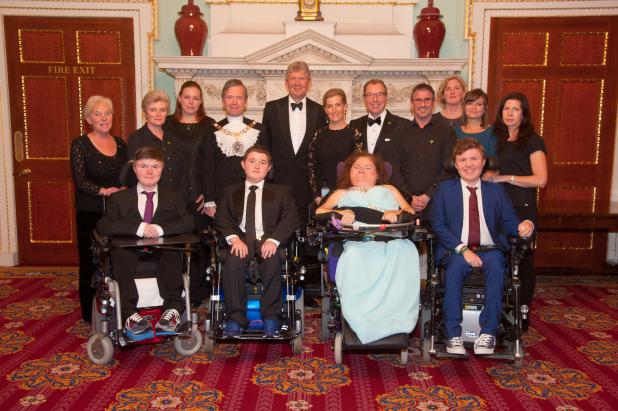 Treloar School and College students were the stars of the show at this year's annual Mansion House fundraising gala dinner in London, with HRH The Countess of Wessex GCVO in attendance.
Jocelyn, Watkins, head of music at Treloar's, gave a brief welcome and introduced Amy, Henry, Mike and Jamie to the stage, all of whom gave wonderful performances of songs from the musical The Lion King.
Bethany Arnott, Treloar's teacher, provided sign language for the 210 guests present, encouraging them to join in. The students were accompanied by the Royal Marines Concert Band Quartet.
It was a very special evening with speeches from Treloar's parent and patron Humphrey Hawksley, an author, commentator and foreign correspondent, followed by Treloar's Royal Patron, HRH The Countess of Wessex GCVO, who gave an awe-inspiring speech on the work of Treloar's and how proud she is to be part of the Treloar's 'family'.
The annual event, hosted this year by The Rt Hon the Lord Mayor of the City of London, Alderman The Lord Mountevans, raised a stunning net profit of £45,000, which will help toward the work Treloar's does in supporting each student to achieve his or her best in every aspect of life.
Treloar School and College are specialists in providing education, care, therapy, medical support, independence training and opportunities for young people with physical disabilities from all over the UK. To find out more, visit www.treloar.org.uk