Behind closed doors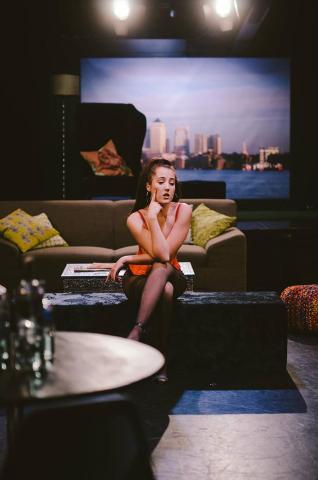 Theatre review by Henry Ascoli
'Game Plan' by Alan Ayckbourn, performed by Performance Preparation Academy at the Bellerby Theatre, Guildford
Urgent needs call for desperate measures…
From dark and disturbing to laugh out loud humour, this finely-crafted comedy, penned by one of the nation's best-known playwrights proved a fine choice for the talented PPA team to bring to the stage.
'Game Plan', inspired by Alan Ayckbourn's experience of living in the London Docklands, scratches beneath the material wealth on the surface to reveal a flawed community, the line between success and failure all too thin.
Sixteen-year-old Sorrell and her single mother Lynette struggle to make ends meet in the wake of the 'dotcom crash', prompting Lynette to suggest a move away from the capital. Desperate to avoid leaving London and her friends, Sorrell hurriedly hatches a plan to earn extra cash quickly, inspired by a rather dubious role-model of a girl expelled from her school.
Despite her initial protestations, Sorrell's hapless yet faithful friend Kelly finds herself compelled to assist in the dubious project, but it soon becomes apparent that it's not quite going to be plain sailing, with matters rapidly spiralling out of control...
While of course this is a comedy at heart, Ayckbourn succeeds in highlighting some dark and often contentious issues, either created or enhanced by modern society. Prostitution, paparazzi and the age of the internet… "You can buy anything online".
In truth, I have never been disappointed by what I have seen on the Bellerby stage in the past, and this was no exception, as once again PPA tackled a complex and often challenging piece with pure passion and endeavour.
The intimate surroundings of this theatre ensure much of the action takes place mere inches from the audience, and in this instance in particular, there was very little margin for error!
Meg Lyons and Charlotte Guest proved a formidable double act as Sorrel and Kelly respectively, each demonstrating superb understanding of their characters to portray the rollercoaster of emotions as their 'fool proof' plan collapses around them.
Paige Gilmour's portrayal of Lynette epitomises the entire theme of the play – her chain smoking, stressed outlook and sleep problems on the surface masking much deeper concerns for her future. Past achievements, built up over years, just wiped away by the economy.
As matters take a more sinister turn during the second act, Charlie Ward and Olivia Haart (Dan Endicott and Grace Page) portray a Policing duo desperate to bring down their suspect, by any means. Arrogant, assertive and altogether dislikeable – superb character studies by both.
Ben Gavan, too, merits a mention for his brilliant portrayal of the ill-fated Leo Tyler, while Jack Pappara's brief appearance as roving 'reporter' Troy Stephens during the final scene leaves us wanting even more from the play.
Occasionally predictable, often hilarious, always intriguing… A play packed with action and entertainment, which also leaves us looking at the bigger picture.
PPA living up to expectations once again.
Performance Preparation Academy, 01483 459080, www.ppacademy.co.uk