What's cooking this Christmas?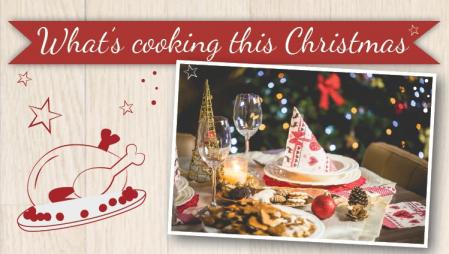 Here are our top tips on how to go for something different with food and drink this festive season, without losing the Christmas spirit…
1) When it comes to Christmas drinks, why not ditch the usual suspects this year? Replace eggnog and mulled wine with a refreshing and sophisticated Christmas cocktail such as an Orange Blossom, a sloe gin Negroni, or a Jack Horner.
2) If not serving mulled wine at Christmas is a few too many steps away from traditional for you, then how about making your own with a twist instead? There are hundreds of recipes online for different variations of mulled wine, and you can even make it in a slow cooker, how perfectly easy even if you're busy wrapping presents!
3) Christmas morning breakfast is always a big deal as it is the start of the day's celebrations! Smoked salmon and scrambled egg is always popular, but there are many variations upon this classic. For instance, why not try adding lemon or tabasco sauce to your eggs?
4) Why not ditch the usual cheeseboard this festive season and attempt to recreate Kimberly Wilson's (Great British Bake Off) filled brioche centre piece with baked Camembert? Sounds complicated, but the method is simple enough when put to practice. Send us a picture if you manage to pull it off!
5) A gingerbread house is the classic for kids' Christmas baking, however there are many other options such as sugar charms for your tree (made by boiling down hard sweets), cupcakes made into Christmas trees, homemade candy canes, or stained glass biscuits.
6) Boxing day (and the following week) is normally filled with eating leftovers in the form of turkey and stuffing sandwiches and bubble and squeak, but here are some more creative ideas for getting rid of those leftovers. Turkey curry is always a good idea,or you could go for a turkey, ham and leek pie, cream of turkey soup, smoked salmon salad, vegetable soup using leftovers, or even simply a turkey pasta dish with bacon, peas and cream.
7) When it comes to desserts, Christmas pudding and mince pies are always going to come first. However, if you are truly in the mood for ditching traditions this year, read on. Mincemeat and apple caramel pie is also a perfect way to change up your dessert course. If you are sticking to the classic Christmas pudding though, maybe try making your own brandy ice cream to accompany it.
Enjoy!