A fresh start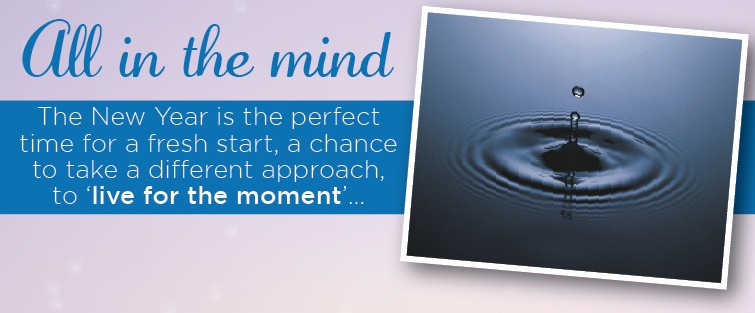 The New Year is the perfect time for a fresh start, a chance to take a different approach, to 'live for the moment'…
Mindfulness is a practice that originated in Buddhism, but you don't need to be a Buddhist or even religious to benefit from it.
Mindful awareness is about befriending the moment-to-moment experience of our thoughts, perceptions, feelings and body sensations with openness, curiosity and acceptance, and its benefits include improved concentration and clear thinking, and the ability to better relate to others.
Here are five top tips to begin being mindful in 2017…
1. Focus on developing concentration
Concentration is the constant partner to mindfulness. Think of it as the active force and mindfulness as the passive. When you consciously decide to focus on your breath and work to keep your focus on it, this is your concentration.
2. Slow it down
We're taught to move quickly, multi-task, and ultimately be as productive as possible. This mentality is ingrained in us. Walking from point A to point B, sitting in a waiting room, driving to and from work, and just stopping for a moment to follow your breath anywhere and at any time. Slow it down and really start taking the time to enjoy the little moments.
3. And breathe…
Concentrating on your breath and nothing else seems like an easy task but it can be quite tricky depending if you've got anything on your mind. Focussing on your breathing helps you to be present and gradually drown out your thoughts so you can exist in the here and now.
4. Increase your awareness
Engaging your senses can help you become more aware, which will help you on your path to mindfulness. You can do this by giving yourself a hug, interacting with a pet, or smelling a flower.
5. The great outdoors
Your brain is wired to respond to the smells, sights, and sensations you receive outside. Paying attention to your environment in a focused and mindful way while you are spending time on the beach or in the woods is a great thing to do.
There are plenty more ideas and tips for mindfulness online, but this should give you a taster and the perfect place to start…