The great outdoors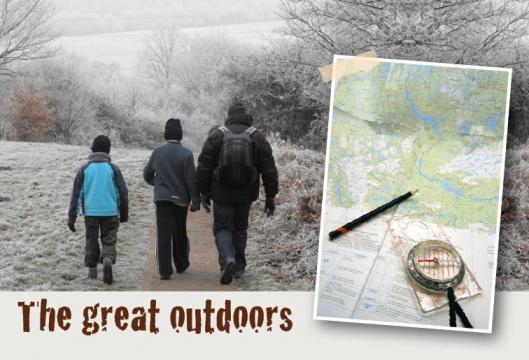 One of the best ways to keep active during the winter months, and experience the great outdoors, is walking.
Wrap up warm, don your walking boots and head out with friends and family – you could even stop off somewhere for a hearty lunch afterwards.
To give you some inspiration, here are just a few of our favourite local spots to explore…
Staunton Country Park
Enjoy a massive 1000 acres of landscaped parkland and forest at Staunton Country Park near Havant. You'll find a farm, lakes, a maze, a walled garden and glasshouses containing exotic tropical flowers and plants from all over the world.
The common walking route around the park is a total of four miles, which can burn up to 400 calories! The longer Staunton Way walk is 9 miles long and takes you from Queen Elizabeth Country Park near Petersfield, all the way down to Staunton Country Park. But be aware, as this route is not circular, it requires a bit more planning!
023 9245 3405, Staunton Country Park, Middle Park Way, Havant PO9 5HB
Queen Elizabeth Country Park
With 2000 acres of open access woodland, it's hard to go wrong when exploring Queen Elizabeth Country Park. With Butser Hill and its astounding views of the local countryside as far as Hayling Island, this is a truly beautiful area which everyone needs to explore once.
There is also a guided walk which you can sign up for at the visitor centre. The average route around the park is five miles, but if you ask at the visitor centre they will happily advise you on longer/shorter routes if need be.
023 9259 5040, Queen Elizabeth Country Park, Gravel Hill, Horndean PO8 0QE
Hayling Billy Trail
This trail uses the Hayling Billy Coastal Path which runs along the west coast of Hayling Island, offering beautiful views over Langstone Harbour - an internationally important site for its wildfowl and wading birds.
The route is very flat and entirely off road so ideal for families with young children looking for a safe, traffic free cycle route. It is also perfect for walkers looking for a waterside stroll. The trail is six miles long, so a good length for most ages and abilities.
The Hangers Way
The Hangers Way begins in Alton and ends at Queen Elizabeth Country Park, making it in total a huge 21-mile trail. The route passes through the delightful little village of Selbourne and the attractive market town Petersfield, before finishing at Queen Elizabeth Country Park.
Scenery along the way features beautiful woodland and grassland settings of the Hampshire countryside, while passing man steep-sided hills called the Hampshire Hangers.
For those of you who feel 21 miles is a bit ambitious, we recommend walking either a third of it, which takes you to the village of Selbourne, or half of it, which takes you to Hawkley. Both of these locations have delightful little pubs where we highly recommend stopping and getting a bite to eat, or maybe just a drink!
St Swithun's Way
St Swithun's way beats the Hangers for distance, being an even larger 34-mile trail. However again, this trail can be done in small sections, with plenty of great places to start and finish depending on how far you feel up to walking. St Swinthin's way stretches all the way from Winchester to Farnham, passing through the beautiful Hampshire and Surrey countryside.
It can be titled as a historical walk due to the numerous churches and pilgrimage connections along the way. The trail begins at the splendid Winchester Cathedral and heads east, through the Itchen Valley towards New Alresford.
The opening section includes a long waterside stretch along the River Itchen, passing through the pretty village of Itchen Abbas as you go.
The next section takes you from New Alresford to Alton along country lanes and through a couple of delightfully peaceful woodland stretches. You will also pass through the village of Chawton – home to Jane Austen. From Alton you then head north-east, following the River Wey through Bentley, before finishing at Farnham in Surrey. We struggle to recommend a single stretch of this to try, as the majority of it is gorgeous! How about splitting it into four or five sections and tackling one a week for a month or so? Or if you are really brave, attempt to do it all at once! Let us know if you manage it…