Gardening: Preparation is everything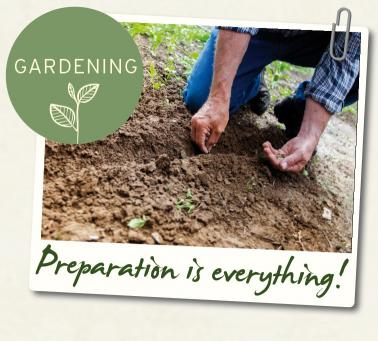 Welcome to the first of our monthly TDG gardening articles, offering top tips and ideas for what to do in the garden this month…
With spring just around the corner, now's the time that the garden starts to 'wake up', so whatever the size or style of your garden, there's plenty to do in preparation for the new season…
If the weather is mild, you may need to start mowing – but remember to cut on the lawn mower's highest setting so as not to damage the grass.
Brush away any worm casts, which develop, and prepare seed beds for new lawns to be seeded later in spring - but only if the soil is not too wet.
In the garden itself, check that winter frost protection is securely in place and trim any winter-flowering shrubs that have finished flowering, and prune any wisteria.
If all you can see from your windows are unattractive sheds, composting areas and bins this winter, consider evergreen climbers to screen the area, or just to add winter interest. Bamboo plants also make a fantastic screen.
For anyone growing vegetables, February is the time to prepare vegetable seed beds, sow some vegetables undercover and chit potato tubers.
Look out for more gardening tips next month!