Life on the dark side...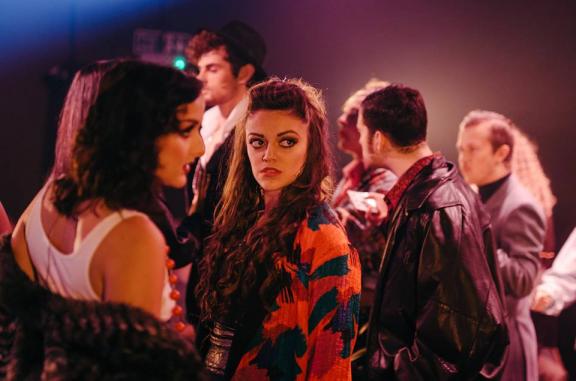 Theatre review by Henry Ascoli
The Life, by Performance Preparation Academy, the Bellerby Studio Theatre, Guildford.
You've got to use what you got…
Pimps, prostitutes, druggies and dealers take centre stage in this compelling musical, which exposes New York's dark side…
Performance Preparation Academy (PPA) never shies away from thought-provoking, even at times shocking, productions, and this proved to be no exception - a confident and talented cast rising to the challenge once again.
Set in the 1980's, the show takes place in the rundown and seedy underbelly of Times Square's 42nd Street, revealing the many – and real – dangers of life on the streets, and the questionable characters involved in this world.
Superb choreography, eye-catching dance routines and memorable musical numbers – the hallmarks of a PPA production – are there for all to see in this highly-charged production, along with some stand-out individual performances…
Joseph Hewlett delivers a complete performance as the deceitful Jojo, who leeches from the drug addicts, pimps and prostitutes in turn for his own profit.
In Fleetwood (Steve Brown) and Queen (Alice McKenna) we meet two characters who have been sucked in to life on the streets, their ill-considered actions only drawing them deeper into the mire.
But it is Robbie Fell's superb portrayal of the dangerous Memphis which truly demonstrates the musical's motives, encapsulating the downward spiral of life on the streets.
For me, the star of the show is Olivia Hanlon in the role of Sonja, her incredible voice lighting up the room in 'The Oldest Profession' and 'Someday is for suckers'. Not only this, but she perfectly captures the bond created between Sonja and Queen during the latter stages of the show – a redeeming message of hope and fortitude through friendship.
The Life certainly has no shortage of musical numbers, but among the show's highlights is Lou, Jojo, Fleetwood and Mary in their pomp in 'Easy Money', the imposing Memphis partnered by Queen in 'My Way or the Highway' and Queen's 'We had a dream' – her voice charged with emotion. And in a lighter moment, we meet a trio of 'Jesus people' in the booming 'You can't get to heaven'.
The danger with a show of this nature is to tone down the more sinister or shocking moments, but with PPA there are no holds barred – and all the better for it, with director Lucy Stewart and her creative team leading a fine production.
⭐⭐⭐⭐
PPA's next production, 'Merrily We Roll Along', runs at the Bellerby Studio Theatre from 1st-4th March. To book tickets and find out more, go to www.ppacademy.co.uk