Festival fun at the Capital of Watercress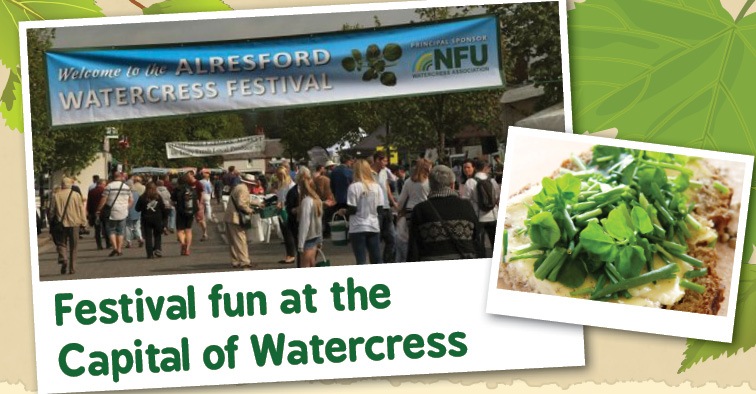 On Sunday 21st May, Alresford will be brought to a standstill, when the watercress beds surrounding the town are awash with new season watercress, and the 'Capital of Watercress' plays host to the annual Festival held in honour of this peppery leaf.
The Alresford Watercress Festival, now in its 13th year, heralds the arrival of the UK's first new season crop of watercress and regularly welcomes up to 15,000 visitors for this one day of the year.
People from around the country descend on Alresford to join in the festivities and enjoy the wide range of mouth-watering watercress treats on offer. Try soups, cakes, fudge, bread, sausages, watercress ice cream, gin and this year the special Watercress Warrior Ale made by Cerne Abbas Brewery in Dorset with the label depicting the world-famous Cerne Abbas Giant clutching a bunch of watercress.
The day kicks off at 10am with live music and an opportunity to visit the many food and craft stalls before the town collectively stops what it is doing to honour the arrival of the Watercress King & Queen.
There's enough to keep a family busy for the whole day, with rides on the famous Watercress Line steam railway, music, children's entertainment including a petting zoo, magicians, falconry display and rides. For the adults, craft, jewellery and food stalls offer some retail therapy, cookery demonstrations by local award winning chefs show the versatility of watercress as a cooking ingredient, while local pubs and restaurants add innovative watercress dishes to their menus for guests to try.
The highlight for many, however, is the annual World Watercress Eating Championships, where contestants compete to eat two 80g bags of watercress in the quickest time to earn the Guinness Book of Records title of World Watercress Eating Champion – the time to beat is 32 seconds!
With the focus of the day being watercress, it's no surprise that there will be watercress farmers in attendance to talk to the public about the wonders of this superfood grown in flowing spring water, and its enthralling history.
Visit the Watercress Company stall where a model watercress bed demonstrates the growing process of the crop, that contains over 50 vitamins and minerals, and for which research has highlighted a significant link between it and cancer prevention. Find out more about the Alresford Watercress Festival at: www.watercressfestival.org