Hounds For Heroes support from Holiday Inn Winchester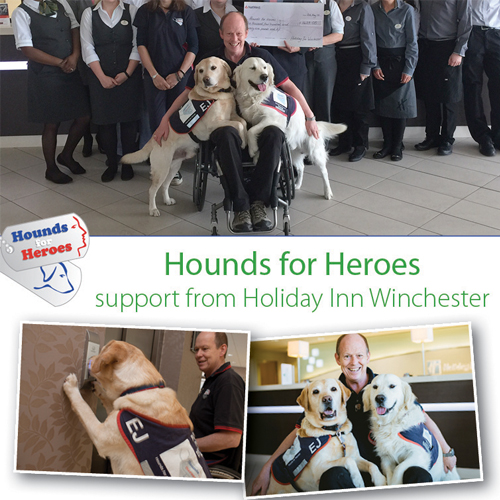 The staff at the Holiday Inn Winchester miss the patter of paws around the hotel after hosting a series of successful training sessions for Hounds for Heroes.
The Petersfield based charity was in need of accommodation for the injured and disabled men and women from the armed forces and civilian emergency services, during training with their new assistance dogs. The hotel stepped in to sponsor the charity with free and accessible hotel rooms, for those travelling from across the UK to train with their Hounds for Heroes dogs.
"It is wonderful hosting the Hounds for Heroes veterans and their assistance dogs. The staff and our hotel visitors really enjoy seeing the veterans and their dogs in training around the hotel during each two week stay and we really miss them when they have gone. It is good to be in a position where we can sponsor the charity with positive practical support," commented Sarah Waddington, Marketing Manager for the hotel.
As well as accessible accommodation for the Hounds for Heroes clients in training, the hotel has also run two fundraising Curry and Quiz nights for the charity, raising £1429.
Allen Parton, Hounds for Heroes Vice- Chairman and Founder commented:
"It is always a worry when the disabled client is away from their comfort zone and familiar surroundings. It is good that the hotel really is a home away from home for them. The success of our training session s
would not be possible if it was not for the professionalism and dedication of the staff at the hotel, who do an excellent job in looking after everyone and with such enthusiasm."
Inspired by his own assistance dog Endal, and the way he had helped to transform his life, Allen wanted other injured military and emergency service personnel to also benefit from having the support of a service dog and so Hounds for Heroes was born.
"Our assistance dogs are trained to problem solve and they do all sorts of things to help our injured services personnel, from opening doors, picking up items, getting money from ATMs, opening train doors and they also bring the companionship and love that can be missing when someone becomes disabled," said Allen Parton.
The Holiday Inn Winchester has been designed to be totally accessible to visitors with disabilities and has eight fully adapted rooms, with interconnecting rooms for carers, and welcomes all service dogs into the hotel. www.hiwinchester.co.uk