Jane Austen Regency Week 2017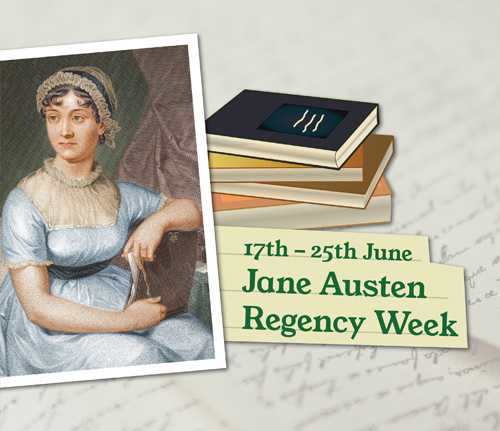 Come and celebrate the life of the internationally admired writer, Jane Austen, during the annual 9-day Regency Week Festival. The Jane Austen Regency Week is being held on our doorstep, in Alton and Chawton, on 17th - 25th June.
This year is a celebration of 10 years of the Jane Austen Regency Week but also marks the 200th anniversary of Jane Austen's passing. The Week acts to educate people on the very interesting period of history in which Jane Austen lived. With 29 events to choose from, there is something for everyone!
Start off the week with Alton Regency Day. Throw on your period costumes to explore the market, animal petting grounds and enjoy horse and carriage rides. Enjoy a guided tour around Chawton House, where Jane Austen's brother Edward Austen-Knight lived, and then treat yourself to a delicious cream tea in the grounds. Volunteers have worked hard to bring back the magic of the kitchen and gardens with the restoration of seasonal vegetable patches and beehives.
Listen to various talks about Jane Austen and the era in which she lived in, including learning about the medicinal herbs that were a key part of general medical practice and home remedies at the time.
Or if you are creative and nimble fingered, learn rare eighteenth century patterns and develop handkerchiefs through historical needlework in the embroidery workshop.
The fun isn't just limited to the daytime, get involved in an evening experience by visiting the once-a-year evening opening of Jane Austen's House Museum or joining in on a traditional choral evensong. Listen to live music and practice your periodic dancing at the Regency Dancing Workshop, ahead of the Regency Ball in the evening.
Finish the action-filled week with the Victorian Charity Cricket match held in Alton for it's 34th year. Followed by an evening at the Regency Musical Soiree and a Regency Supper at the Alton House Hotel.
The Jane Austen Regency Week is a non-commercial based event run by volunteers that continues to attract Jane Austen enthusiasts from far and wide to our charming little corner of Hampshire each year. For more information about the event visit www.janeaustenregencyweek.co.uk/community/jane-austen-regency-week-13273/who-we-are/